KAKUSHIGOTO Episode 12, "Secret" aired on 18 June, 24:00 [23:00 id/th]. Encores are on every Friday 18:00 [17:00 id/th] and Sundays 21:00 [20:00 id/th].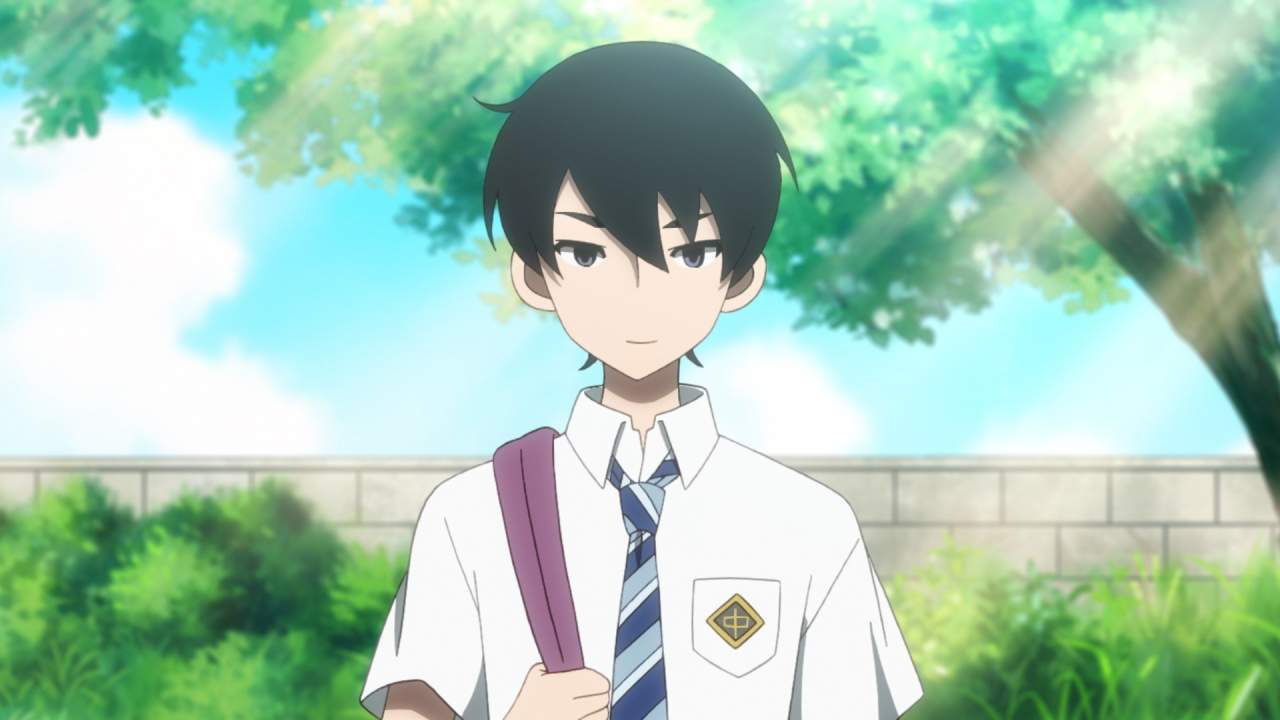 Episode 12【Secret】
"We'll do a birthday party every year, with just the three of us."
11-year-old Hime believed that it would last forever—
Turning the clock forward, Hime is now 18 years old. Upon receiving a key and map from an unknown person, Hime gets on the Enoden line and heads for the house in Kamakura. At the house which Hime was supposed to be living in with both her parents, she learns about Kakushi's secret of being a manga artist.
While Hime contemplates about why her father quit drawing, an unfamiliar boy approaches her…
Recap on the past episodes below!
Episode 11【She, the Fine Final Chapter Girl】
One night, Kakushi is caught off-guard when Hime suddenly declares a family meeting. "We don't have a meeting room, so it'll have to wait until we make one," Kakushi tells Hime as he successfully delays it. While worrying that Hime would be upset if she realizes that the "meeting" is simply just a conversation, the next day comes.
At school, Hime learns that one does not need a meeting room for a meeting, while Riko recommends a meeting by a well. Thus begins the Meguro River Detective Agency's well search.
Episode 10【I"S (Izu)】
The end of the year is near. Goto Pro attempts to finish work in advance so that everyone can take a longer new year's break. However, Kakushi fails to do so, claiming that "as if a serious manga artist could ever finish in advance!".
"A manga artist could never book an extended holiday!" Kakushi complains, but there is huge truth behind that statement. Simply because, manga artists will definitely fall sick during their breaks. For the sake of her bed-ridden father, Hime starts praying for Kakushi's recovery while writing sutras…
Episode 9【Your Lie in December】
It's December, time for a manga artist's year-end trial—the "year–end crunch". It is the time of the year when Editorial cracks the whip on manga artists to get the manuscripts done. Meanwhile, the members of Goto Pro are all pumped up as the publisher's grand year-end party draws close. However, Tomaruin brings Goto a piece of shocking news.
"The party's history now. With reduced sales, they're trying to reduce costs"… Kakushi finds it hard to break the news to his excited assistants…
Episode 8:【Our Lineart】【Sorry Celebration】
The name of Goto family's new puppy is still undecided.
While Hime temporarily names him "Gol (temp)", the day of registration at the ward office comes. Hime's dilemma was dispersed and chooses the puppy's name after listening to something a clerk says. "The name was decided from the start!" Hime exclaims with a smile, while a puzzled Kakushi cocks his head to the side.
Few days later, troublemaker Tomaruin dashes into the office, excited about the "celebration of Weekly Shonen Mangazine's 38th Anniversary", when he realizes that it is also the day of commemoration of something more important…
Episode 7:【Dog Days】【Linking Mother and Child】
One day at the Goto household. A flyer lies atop the desk. With a "puppy adoption drive" flyer in her hands, Hime asks Kakushi the question.
While troubled by Hime's sudden request, Kakushi comes across Ichiko-sensei who is walking her dog at the park.
"I spent a lot of time at home alone. I couldn't have done it without him," Ichiko says while gently petting her beloved old dog.
That night, Kakushi decides to let Hime keep a dog. While Hime is overjoyed at the news, a new member is about to join the Goto family.
Episode 6:【School Bag】
A brand-new school bag with a piece of sticky note that says "From Naoto Date" is found at Goto's front door. Kakushi takes a photo of Hime carrying two school bags and while putting away the bag from "Naoto Date", they look at the other bags lined up in the closet…
The assistants of Goto Pro question Kakushi about the existence of "Naoto Date", who has been sending new bags every year, but receive no clear explanation.
Episode 5:【Your Time Will Come】【Put Up!】
Tomaruin asks Kakushi to be the judge for a newcomer contest using the excuse that "other authors are doing it in rotation too".
Despite his firm rejection, Kakushi immediately changes his mind after hearing Hime talk about how she learned from her teacher that "the industry will collapse if somebody doesn't do the dirty work".
The next day, a large number of cardboard boxes labelled "contest entries" are delivered to Kakushi's home… Worried that Hime might find out about his job, Kakushi makes a complaint, but…
Episode 4:【What's in a name?】【Panel Sketches】
One day at work, Kakeru Keshi picks up a beauty salon membership card belonging to "Kazushi Goto" and asks Kakushi if "Kakushi Goto" is a pen name. Instead, Kakushi replies, "My real name's Kakushi Goto, and I go by Kazushi Goto in public."
Kakushi proceeds to explain to a confused Kakeru the pains of a manga artist who debuted under his real name.
Meanwhile, Hime is searching about her own name at home…?
Episode 3:【Make–Do Circus】【The Truth About Manga and Muscles】
The assistants of Goto Pro have gotten injured while Kakushi's manuscripts are almost due. Tomaruin introduces a new assistant, Yuma Ato, but Kakushi simply doubts Tomaruin's ability to recruit a capable helper.Meanwhile, Hime invites her classmates—Sylvia, Hina and Riko, to her house. Upon her friends' responses, Hime realises one thing."Dad… we're poor, right?"While Kakushi denies the statement, Hime starts to plan for their savings.
Episode 2:【B–san and B4】【Prevent Manga Disaster】
Hime has gone for summer school. While Hime is playing at the seaside, a man watches her from afar…
Worried that his precious daughter would run into trouble at the sea, paranoid parent Kakushi drags his assistants to a villa he borrowed from a fellow manga artist.
To make Hime's school trip a memorable one, Kakushi goes all out — catching rhinoceros beetles and tweaking the taste of curry behind the scenes. However, it is unbeknownst to them that a huge typhoon is approaching…
Episode 1:【Secret】【Wish】
Kakushi Goto is a manga artist who draws a somewhat vulgar manga. He hides this fact from his daughter, Goto Hime, in fear of her finding out about his job.
One day, Kakushi is contacted by his new editor at "Weekly Shonen Mangazine", Satsuki Tomaruin. However, Tomaruin never appeared at his workplace. Instead, he went straight to Kakushi's house?!
While worrying that the secret will finally be revealed, Kakushi dashes towards his home…
---
KAKUSHIGOTO is a manga series by the creator of Sayonara Zetsubou Sensei series, Kouji Kumeta.
ANIPLUS Asia will simulcast the series this Spring, premiering on 2 April, with new episodes every Thursdays, 24:00 [23:00 id/th]. Encores every Friday 18:00 [17:00 id/th] and Sundays 21:00 [20:00 id/th].
---
Follow us for anime-related news: www.aniplus-asia.com/news

©Kouji Kumeta,KODANSHA/KAKUSHIGOTO Committee

Tags :