A third promotional video of the TV anime adaptation of Take's Uzaki-chan Wants to Hang Out! has been released. It has also been announced that Saori Hayami will voice Tsuki Uzaki, the mother of the series' main protagonist, Hana Uzaki.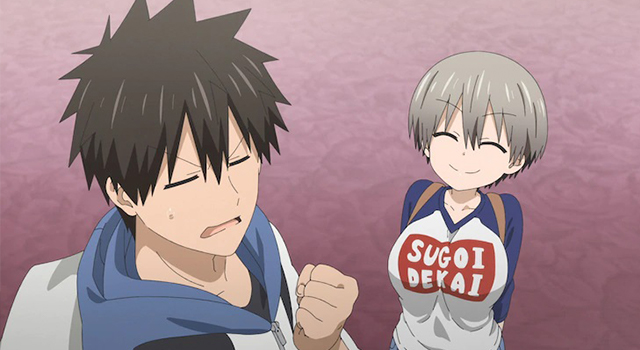 Tsuki Uzaki, the character whom Hayami will play, is a 43-year-old mother who looks too young to be her age. Unlike her daughter, Hana Uzaki, Tsuki is a very elegant and gentle-mannered character. Hayami has also mentioned that she "had lots of fun voicing the kind, gentle and the always flustering Tsuki-san".
Aside from Tsuki's appearance in PV 3, you can also listen to the TV anime's Opening Theme, "Nadamesukashi Negotiation", performed by Kano and Uzaki-chan.
The TV anime is slated for broadcast in 10 July in Japan.

TV Anime Uzaki Wants to Hang Out! main Key Visual
Two other PVs were released earlier in the year:
English Synopsis:
Sakurai Shinichi's one wish is for a little peace and quiet. But Uzaki Hana – his boisterous, well-endowed underclassman – has other plans. All she wants is to hang out and poke fun at him. With the help of her chipper charm and peppy persistence, this might just be the start of a beautiful relationship!
TV Anime Uzaki-chan Wants to Hang Out!
Slated for release in 10 July 2020

STAFF
Original Creator: Take
Director: Kazuya Miura
Series Composition: Takashi Aoshima
Character Design: Manabu Kurihara
Art Setting / Art Director: Satoshi Watanabe
Color Design: Ayako Aihara
Photography Director: Hisashi Matsumuko
Editor: Rina Oguchi (IMAGICA Lab.)
Sound Director: Yasunori Ebina
Sound Effects: Kiyotaka Kawada
Animation Production: ENGI
CAST
Naomi Ozora as Hana Uzaki
Kenji Akabane as Shinichi Sakurai
Ayana Taketatsu as Ami Asai
Tomoya Takagi as Itsuhito Sakaki
Yosuke Akimoto as Akihiko Asai
Saori Hayami as Tsuki Uzaki

---
Follow us for more anime-related news: https://www.aniplus-asia.com/news

Source: natalie

(c)2020 丈/KADOKAWA/宇崎ちゃん製作委員会 (c)2020 Take/KADOKAWA/Uzaki Project

Tags :