The TV anime adaptation of Kafka Asagiri and Neco Kanai's Bungo Stray Dogs Wan! has been announced.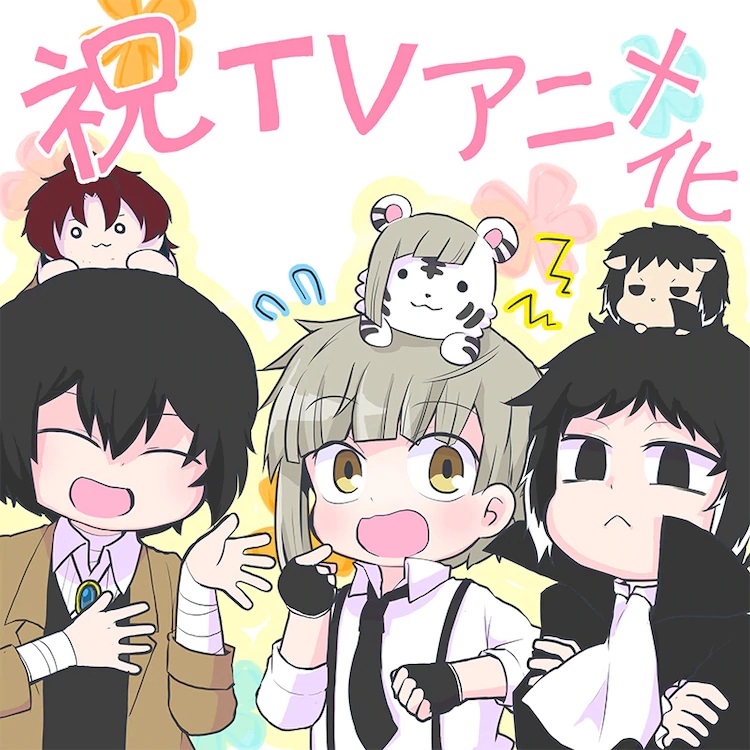 Commemorative illustration by Neco Kanai
Bungo Stray Dogs Wan! is an official spin-off gag series of the Bungo Stray Dogs series by Kafka Asagiri and Harukawa35, featuring a super-deformed (chibi) version of the series' characters. It is currently being serialized on the website of Young Ace.
Comment from Neco Kanai (Illustrator)
"Woof! An anime adaptation! This is for real! Hyaa! This is all thanks to the great efforts from Kafaka-sensei, Harukawa35-sensei, and those who have worked hard to make this happen. Of course, not to mention the love and passion our dear fans has showed Bungo Stray Dogs! I'm looking forward to watching the Atsushi-kun and everyone animated in this gag series!"
Kafka Asagiri (Author)
"I'm as excited as I was when the original series was first green-lit for an anime adaptation! Well then everyone, please be prepared to be healed."
Harukawa35 (Illustrator of original series)
"When I learned about the anime adaptation of 'Wan!', I think I got more excited than when I received news about my works. I can't wait to watch! I'm really looking forward to it."

More details on the spin-off will be announced at a later date.
Check out the absolutely adorable cover illustrations:
---
Bungo Stray Dogs Season 1 simulcasted on ANIPLUS Asia from April to June 2016, followed by Season 2 which ran from October to December 2016 and Season 3 which simulcasted from April 2019.
---
Follow us for more anime-related news: https://www.aniplus-asia.com/news

Source: natalie

(c)Kafka Asagiri 2020 (c)Neco Kanai 2020 (c)Sango Harukawa 2020 (c)2016 朝霧カフカ・春河35/KADOKAWA/文豪ストレイドッグス製作委員会 (c)朝霧カフカ・春河35/KADOKAWA/2019文豪ストレイドッグス製作委員会

Tags :