A sleep-inducing teaser PV of the anime adaptation of Kagiji Kumanomata's sleepy fantasy-comedy 魔王城でおやすみ ("Sleepy Princess in the Demon Castle") was released, revealing the voice cast of the two additional characters.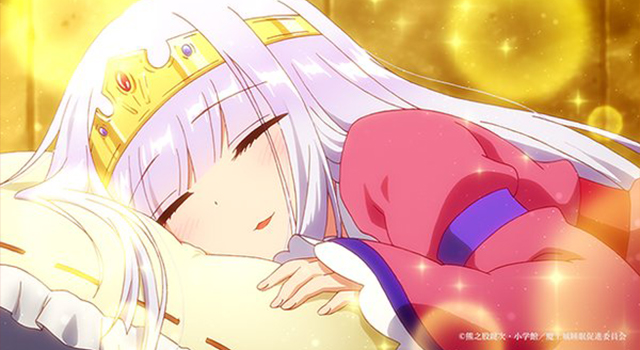 Having announced a green-lit anime adaption of the manga series, Sleepy Princess in the Demon Castle is about an all spoiled-sweet Princess, Syalis, trying all means to catch a good night's sleep despite being imprisoned in the castle of the Demon King…
Grab your pillows, don't nod off just yet…
Are you still here?
It was previously announced that Inori Minase will voice the main protagonist, Syalis. Along with the PV release, the voice cast and character images for Demon King Twilight (Tasogare) and the Demon Cleric were revealed.
Yoshitsugu Matsuoka will voice Demon King Twilight, while Kaito Ishikawa will voice the Demon Cleric.
Furthermore, here are some comments from the announced cast!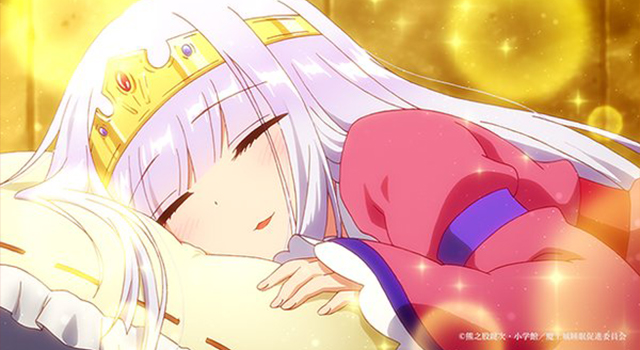 From Yoshitsugu Matsuoka (Demon King)
Your impression of the series
"I imagined from the title that it'd be a story where an overpowered princess defeats the monsters at the Demon King's castle and simply goes to sleep after that. Then I realised I was wrong; it's a chaotic comedy that made me laugh non-stop while reading it at home. I think it's a story that'll cheer you up and make you laugh lots."
Your impression of the character you'll be playing and your comment
"This Demon King is a total show-off. The more he tries to be proper, the more it backfires and he ends up complaining a while lot (laughs). Also, he's unexpectedly innocent. Rather than being a Demon King, he feels more like someone who's trying to be one… although he really is the Demon King.
He's a sad hunk– I mean, Demon King."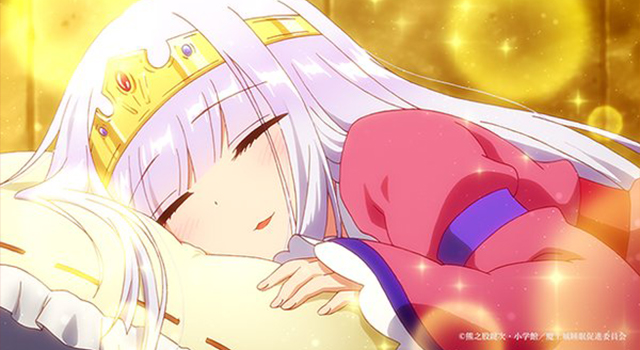 From Kaito Ishikawa (Demon Cleric)
Your impression of the series
"For someone who's forever lacking sleep, I can totally relate to the story. This manga has taught me what quality sleep means and what I can do to sleep well. It's a story that makes me want to re-read one chapter before I sleep every day."
Your impression of the character you'll be playing and your comment
"Demon Cleric is an earnest and gentle-mannered character. There are cute sides to him where he's conscious of the fact that he has lived longer than those around him and how his emotions easily fluctuate according to the princess' actions. Even if I don't understand sometimes, I don't get bored at all. I hope to convey the charms of this story through my acting, so I'll do my best."
Here's the series' synopsis by VIZ, publisher of the manga's English version:
"She decides to while away the hours by sleeping, but getting a good night's rest turns out to be a lot of work! She begins by fashioning a DIY pillow out of the fur of her Teddy Demon guards and an "air mattress" from the magical Shield of the Wind.
The princess's hapless demonic guards soon discover that their captive expects to be treated like, well, a princess.
Things go from bad to worse—for her captors—when some of Princess Syalis's schemes end in her untimely—if temporary—demise and she chooses the Forbidden Grimoire for her bedtime reading…"
Animation Staff
Original Creator: Kagiji Kumanomata (Serialized on Shogakukan's "Weekly Shonen Sunday")
Director: Mitsue Yamazaki
Series Composition: Yoshiko Nakamura
Character Design: Ai Kikuchi
Animation Production: Doga Kobo
---
Source: https://webnewtype.com/news/article/230211/

Tags :