On top of the second season of Cells at Work! announced back in late March, the anime adaptation of the series' spin-off, Cells at Work! CODE BLACK has also been revealed. Both the new season and spin-off are slated for January 2021 release.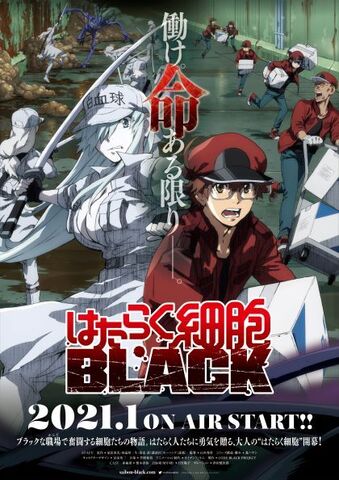 Following the announcement, the spin-off's first PV, Key Visual, Main Staff and Cast were also revealed.
Cells at Work! CODE BLACK is a spin-off of the original Cells at Work! series, portraying the adverse effects of unhealthy lifestyle habits such as consuming alcohol, smoking, lack of sleep.
Hideyo Yamamoto (Director of Strike the Blood series) will direct the spin-off and LIDENFILMS will be in charge of the animation production.
Junya Enoki will play Red Blood Cell AA2153, Yoko Hikasa will play White Blood Cell U-1196 and Kenjiro Tsuda will be the narrator.
Check out the PV for Cells at Work! CODE BLACK:
【TVアニメ化決定!】
「はたらく細胞BLACK」2021年1月TVアニメ化決定!

ブラックな職場で奮闘する細胞たちの物語。
はたらく人たちに勇気を贈る、大人の"はたらく細胞"開幕!

働け。命ある限り——。

■公式サイトhttps://t.co/bQB0e8GvbP

■YouTubehttps://t.co/OibPaprIr0#細胞BLACK pic.twitter.com/EjhXRaPK6R

— 『はたらく細胞BLACK』【公式】 (@cellsatworkbla1) April 16, 2020
Here are some staff and cast comments:
Original Creator: Shigemitsu Harada
"I write while living in fear of problems that are happening within my body after I hit 40, such as Dysautonomia and blood in the urine (for an unknown reason). Thanks to the story, I quit smoking altogether for a healthier lifestyle. I hope this story will encourage the salvage of many middle-aged bodies with a 'BLACK' internal environment. We can still make it!"
Manga Artist: Issei Hatsuyoshiya
"Anime adaptation! I'm extremely grateful!! And so, so happy! This such great motivation! Recently my stomach has been sticking out a lot more, is this what they call "gaining weight from happiness"? (Oh no, I need to exercise…) To make CODE BLACK a great one, I will work hard on both my health and drawing!"
Director: Hideyo Yamamoto
"What kind of actions will they take, and what kind of values and significance do they hold? To encourage a change of mindset within viewers through the portrayal of characters who are working in such a harsh condition—I will work my hardest to make it happen!"
Series Composition: Hayashi Mori
"My first work on series composition and my days of relying on energy drinks to work on the scripts… The work that I have done while on the verge of caffeine overdose—I hope you'll love it so much that you'll have withdrawal symptoms without it!"
Character Design: Eiji Abiko
"I'm sure this story will encourage many to start caring more for their bodies. Everyone, let's go for a body checkup! For those who are healthy, let's watch it with a peaceful mind. For those who are unhealthy, I hope you can relate to the story while watching it."
Music: Yugo Kanno
"My body started turning stiff everywhere after I hit 40. Through this story, I understood that I've been causing a lot of trouble for the cells in my body. I'd like to write some music that'll make our cells happier and healthier!"
Junya Enoki (voice of Red Blood Cell)
"I had a frail body when I was young; I was just like a king that governed the Pediatric ward. I want to spur on this "BLACK" body of mine and do my utmost. Please watch Cells at Work! CODE BLACK."
Yoko Hikasa (voice of White Blood Cell)
"I've never gone for a medical checkup and have been maintaining my health with a lots of health supplements and muscle training, I'll be fine! I hope this story will spur you on so please watch!"
Kenjiro Tsuda (Narration)

"I've lead an unhealthy lifestyle for the sake of the birth of this story! I'm sure of it! This story will turn my "BLACK" self into a "WHITE" one! Ah, fate has led me here! …Uh… um… I'll work hard on the narrations! Those who are "BLACK", it is your fate to watch this!
Here's the PV of Cells at Work!!, released back in late March when the second season was announced:
📢「はたらく細胞!!」第1弾PV公開🎥

またみんなに会える。体内細胞擬人化アニメ第2期、開幕!
2021年1月からのTV放送をお楽しみに✨

🎦https://t.co/8wtCcZeRwh#はたらく細胞#アニプレックスTV pic.twitter.com/FFtx4lUVEl

— 『はたらく細胞』公式 (@hataraku_saibou) March 21, 2020
---
Source: https://akiba-souken.com/article/44857/

(C)原田重光・初嘉屋一生・清水茜/講談社

Tags :