Upcoming anime adaptation Why the hell are you here, Teacher!? – currently serialising in Weekly Young Magazine – has revealed two additional cast members: Yuko Goto and Toshiki Masuda. Goto will play the role of art teacher Mayu Matsukaze, while Masuda will play student Rin Suzuki.
Why the hell are you here, Teacher!? is about Kana Kojima, a high school teacher who is strict by reputation but clumsy by nature, and how she always gets caught up in awkward situations with male high school student Ichiro Sato. Sumire Uesaka plays the titular teacher and Ryota Suzuki the harassed high school boy.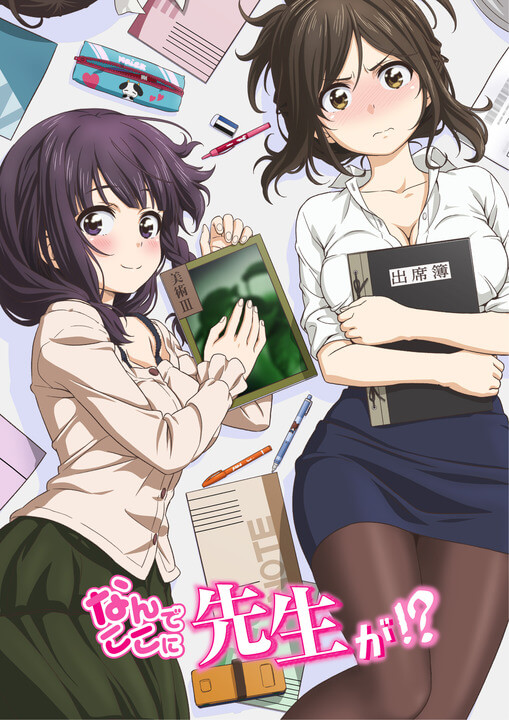 Yuko Goto's comment:
A affair between an earnest and gentle teacher & an earnest and gentle student who think for each other! It may be shocking, but there is a cute charm to it. Laugh along with a fluttering heart and enjoy this flirtatious and healing story filled with pure love. ♪
Toshiki Masuda's comment:
Why is Masuda playing Suzuki?! Hi, this is Toshiki Masuda and I play Suzuki. I find it strange and do not know why this work would be adapted into animation, but there is no doubt that it is the desire of the boys of the world. I look forward to portraying the "aggressive but upstanding student" Suzuki, but I look forward to what happens to Teacher even more!
---
Follow us for anime-related news: www.aniplus-asia.com/news

Source: Mantan Web

©Soborou,Kodansha/"Why the hell are you here,Teacher!?" Animation Committee

Tags :