Following the release of Saekano the Movie Finale by ANIPLUS, at the C3AFA Singapore 2019 which was held from 29 November to 1 December 2019, we had a few words from the highly popular seiyuu (Japanese voice actors) duo, Yoshitsugu Matsuoka and Ai Kayano.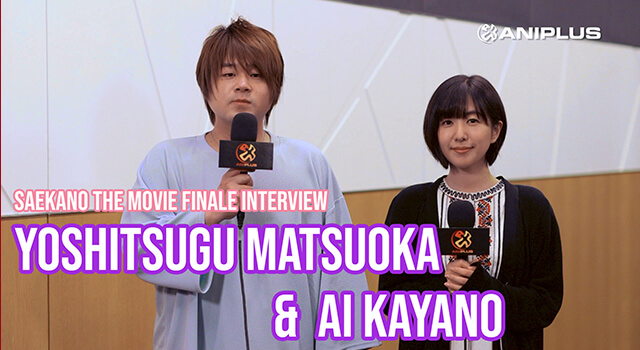 The first season of Saekano: How to Raise a Boring Girlfriend aired and simulcasted on ANIPLUS January 2015, followed by the second season which was released in April 2017. As the final installment of the romantic comedy series, Saekano the Movie Finale will see the conclusion of Tomoya Aki's story with the heroines of Saekano.
Yoshitsugu Matsuoka plays Tomoya Aki, the bespectacled otaku main protagonist of the series and the object of romantic interest for the numerous heroines. On the other hand, Ai Kayano plays Utaha Kasumigaoka, a mature and long-haired cool beauty; one of the heroines who yearns for Tomoya.
Outside of Saekano, the duo is well-known amongst fans to get along well and have played several closely-related roles in series such as No Game No Life, Sword Art Online: Alicization and The Pet Girl of Sakurasou.
In the interview, find out what Matsuoka and Kayano think of the characters they play, the challenges they face when recording for the series and their messages to all who are planning to catch the movie!
Check out the interview here:
Did you enjoy the interview? Let us know in the comments below!
---
Saekano the Movie Finale received a general release in Singapore from 17 January 2020, at GV Plaza.
Tickets are currently on sale: https://www.gv.com.sg/GVMovieDetails#/movie/7160/cinema/114
Fan Screenings happened on 14 & 15 December 2019 in Singapore and 11 & 12 January in Thailand.
---
Follow us for anime-related news: www.aniplus-asia.com/news

©2019 Fumiaki Maruto, Kurehito Misaki, KADOKAWA FUJIMISHOBO / Project Saenai Finale

Tags :