Genre: Comedy, RomanceEpisodes: 13Rated: Rated 16
Aki Tomoya is a high school otaku who works to support his game making. With remarkable luck, he bumps into Kato Megumi, the most beautiful girl he has ever seen. Naturally, the meeting twists his life into a complicated relationships.
EPISODES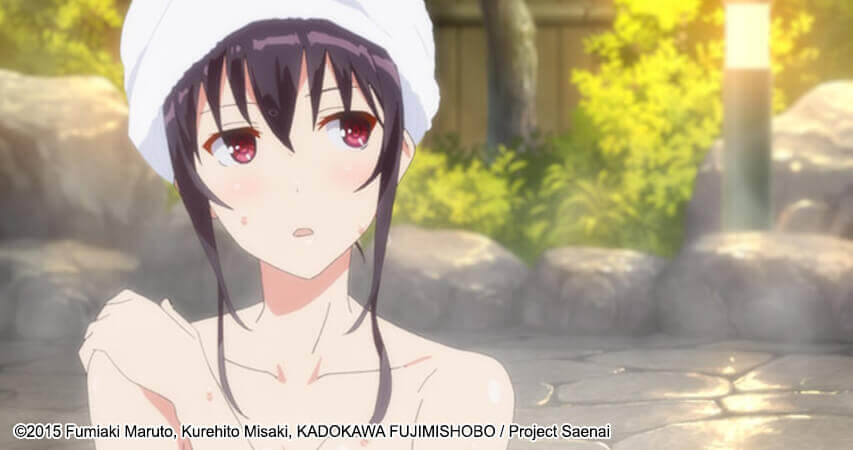 #1 Fan Service of Love and Youth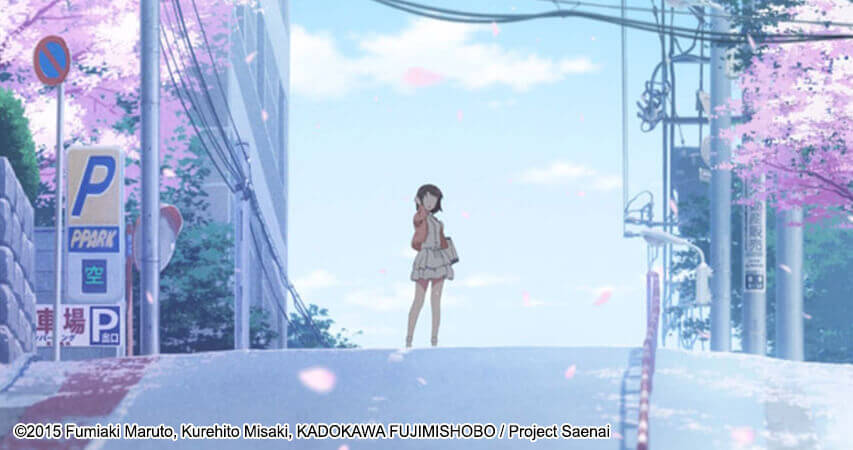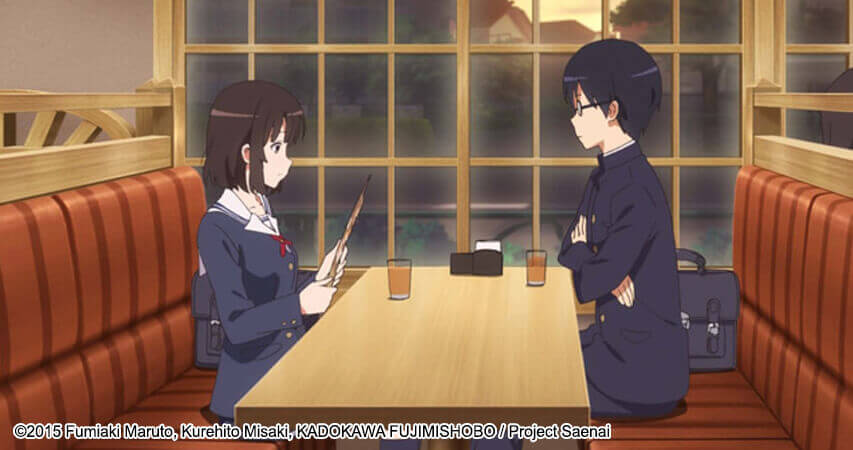 #3 A Girlfriend Without a Raised Flag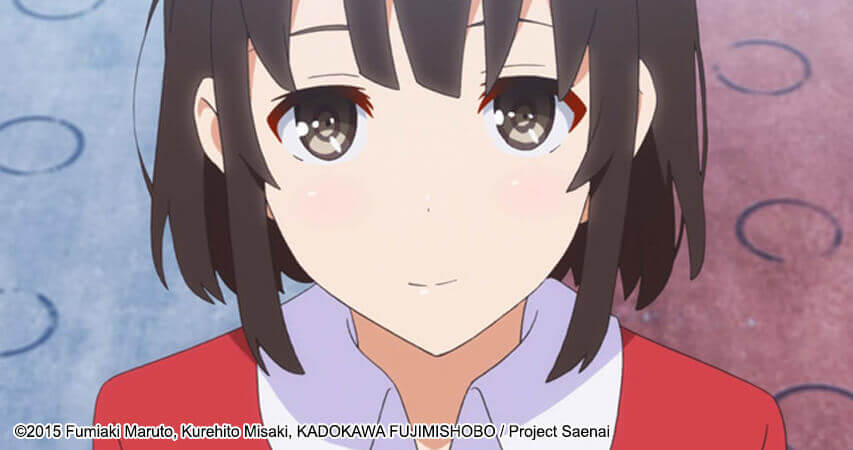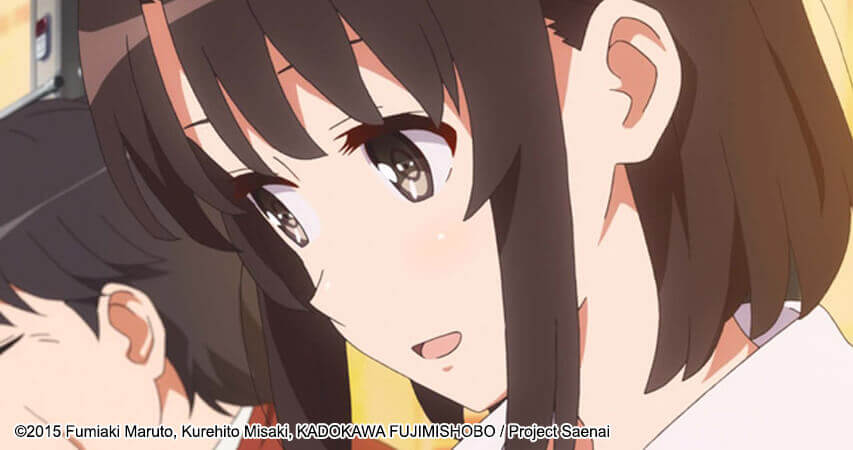 #5 Budget, Dateline and New Development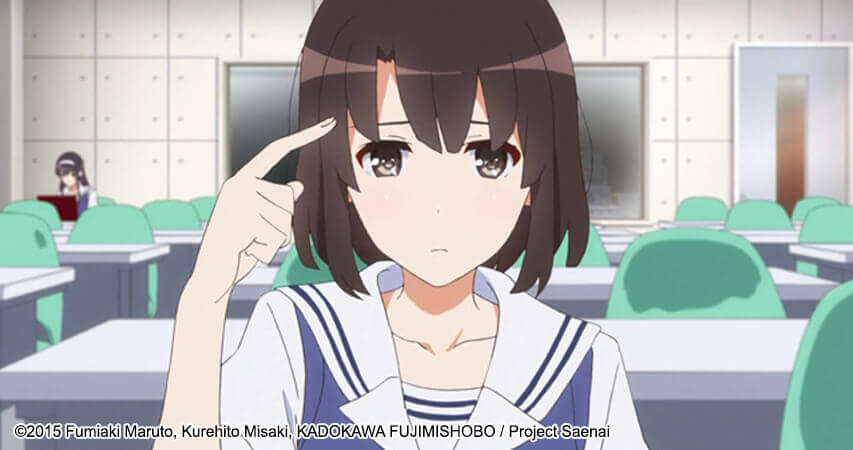 #6 The Date Event of Crossing Paths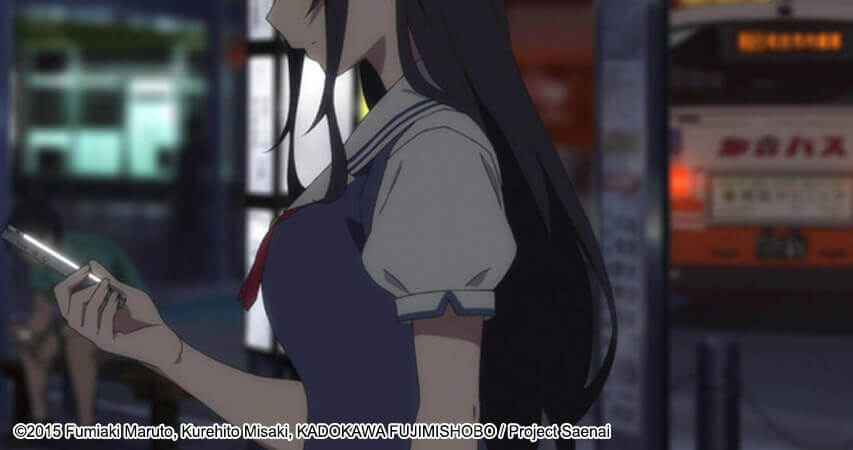 #7 Deciding the Night for Two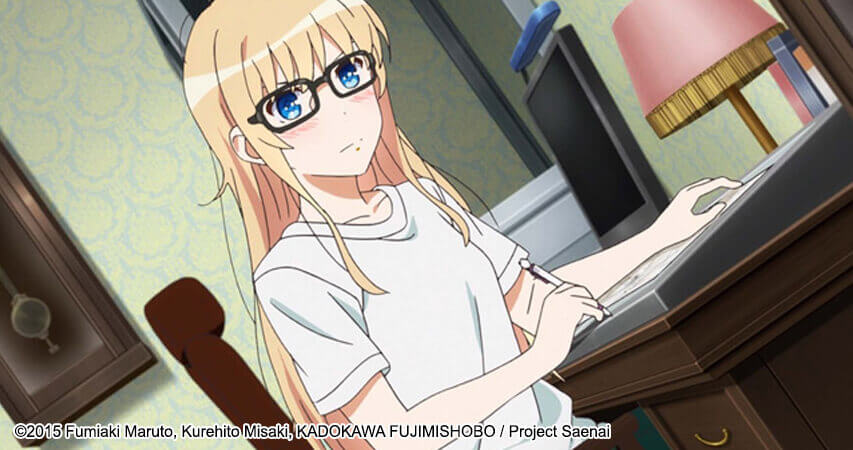 #8 Friend, Foe or a New Character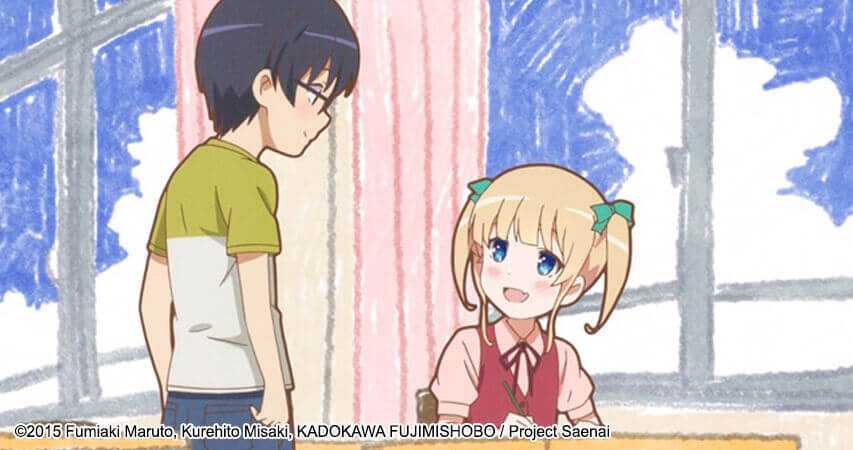 #9 A Wingman's Traumatic Recollection Mode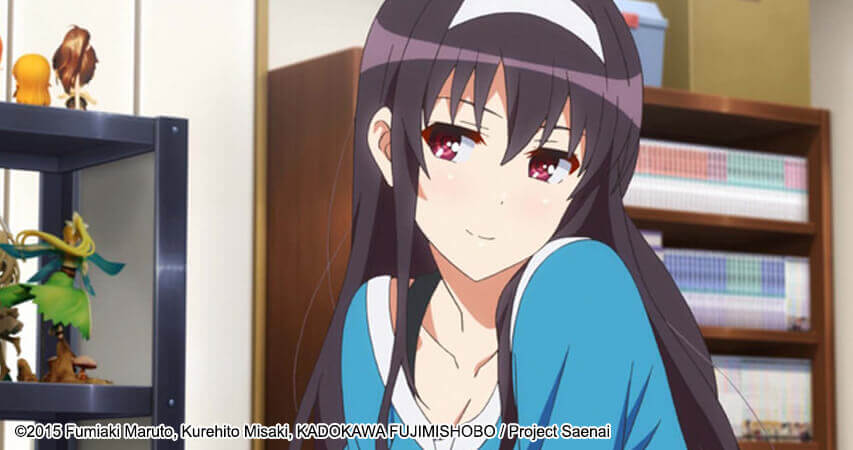 #10 One-on-one Route After 8 Years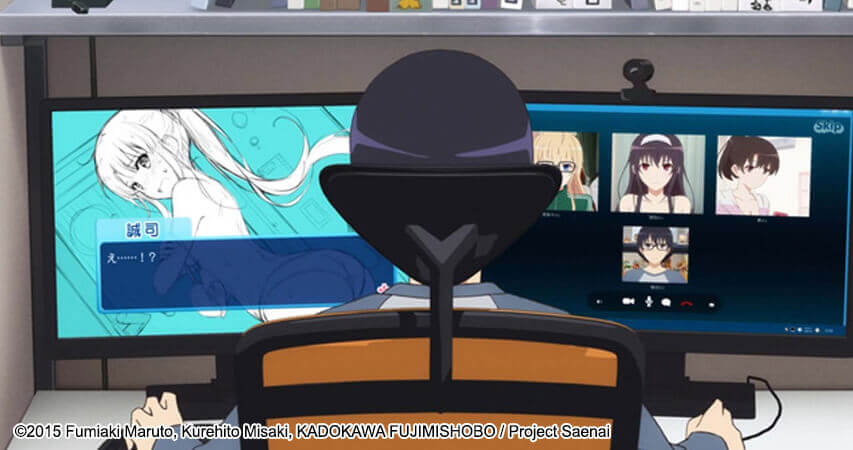 #11 A Melody of Reminiscing and Support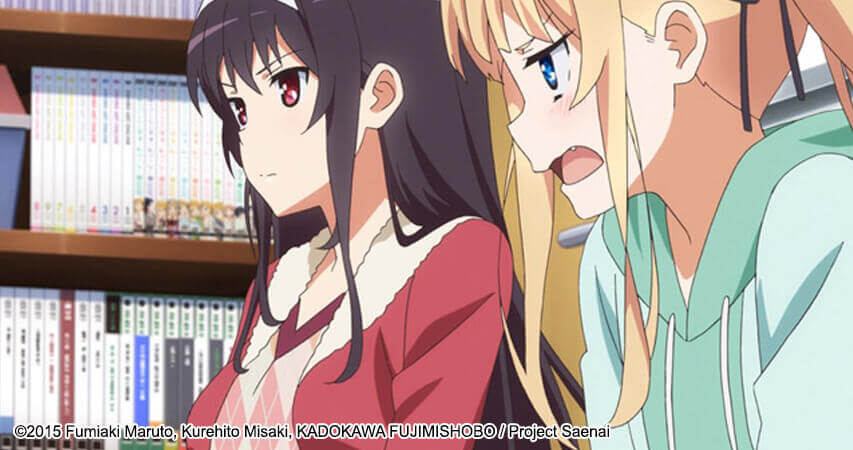 #12 Ready to Start Resolving the Subplots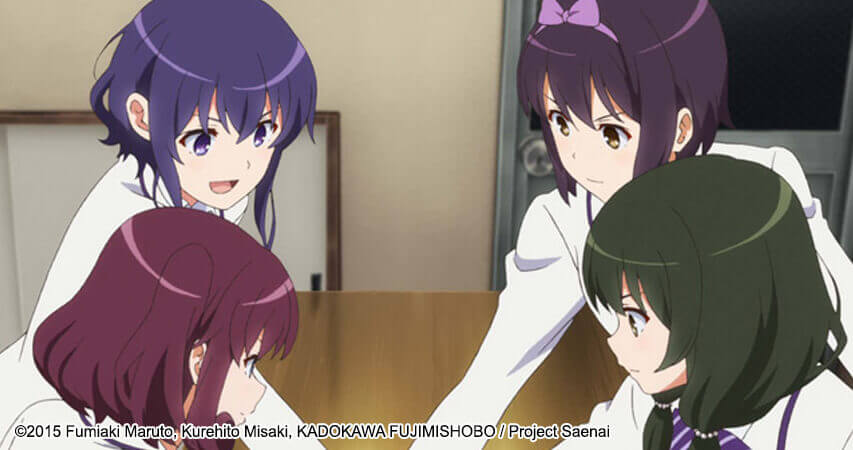 #13 The Ups and Downs at the End of Each Day
CHARACTERS

Aki Tomoya
One of the 3 most notable students at Toyogasaki Academy. When he was a first year student, he succeeded in convincing the vice-principal to allow an anime screening at the school's Culture Festival. He is extremely tenacious and would do anything to get what he wants. He was a typical consumer otaku who would spend the money he earned at his part-time job on anime and games but ...

Kato Megumi
An extremely normal girl. She is so plain that Tomoya failed to realise that he was actually classmates with her. She is very stealthy and it's not unusual to find her checking her cell phone and becoming part of the background even if she started a conversation with you. She is actually very attractive and she also has a very open and likeable personality, but this easy-going nature doesn't help to "raise a flag".

Sawamura Eriri Spencer
One of the most beautiful girls to attend Toyogasaki Academy. Her family is very affluent with her father working as an English Diplomat and she lives in a mansion up in the hills. But, she is secretly the illustrator for an over 18 doujinshi circle called "egoisthic-lily" under her alias "Kashiwagi Eri". She was greatly influenced by her fujoshi (a fan of yaoi) mother and otaku father.

Kasumigaoka Utaha
One of the most beautiful girls to attent Toyogasaki Academy as well as being the top student. But, she is actually a light novel author going by the pen-name "Kasumi Utako". Her debut work, "The Metronome in Love" was a major hit with a total of 500,000 copies sold. She sleeps and reads a lot and usually keeps to herself but when she does open her mouth, everyone is shocked by her sharp tongue.

Hashima Izumi
When she was younger, she used to be very outgoing and active and played with the boys. But after being introduced to the world of otaku by Tomoya, she has become immersed in the fandom. Following her parents' job re-location, she moved to Nagoya but never stopped being an otaku. And now, she returns to Tokyo where her otaku master Tomoya is.

Hyodo Michiru
Born on the same day, and at the same hospital as Tomoya. She not only is his childhood friend at a primeval level, but is also his cousin. She currently attends an all-girls high school and used to be part of all kinds of clubs on campus but recently started an indies band called "Icy Tail". She is preparing for her live performances everyday. She has a very close relationship with Tomoya and often expresses their understanding for one another physically but neither of them care that they are of the opposite sex.
CREW
Illustrator
Takase Toshiaki

Director
Kamei Kanta

Artists Voice
Matsuoka Yoshitsugu as Aki Tomoya; Oonishi Saori as Sawamura Eriri Spencer; Kayano Ai as Kasumigaoka Utaha; Yasuno Kiyono as Kato Megumi; Akasaki Chinatsu as Hashima Izumi; Yahagi Sayuri as Hyodo Michiru

Artists Opening
"Kimiiro Signal" by Haruna Luna

Artists Ending
"Colorful" by Sawai Miku