Based on the data from a series of user surveys conducted after each band's 2nd chapter update, Mobile Index has made an analysis and released the bands' popularity rankings data of the smartphone game, BanG Dream! Girls Band Party!.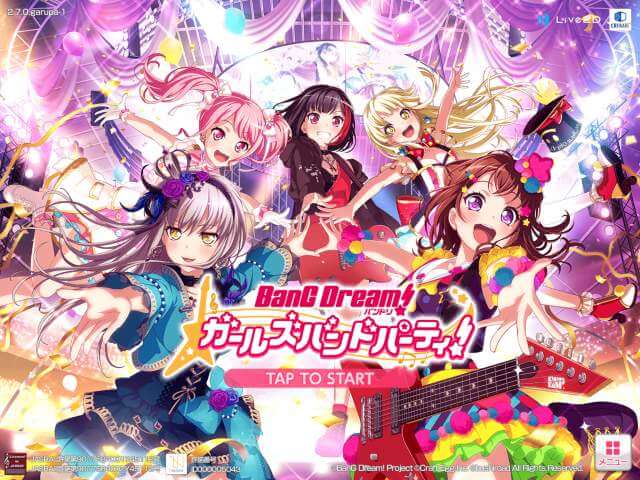 BanG Dream! Girls Band Party! is a rhythmic game based off the anime BanG Dream!. One of the unique charms of the game would be the abundance of covers of popular songs, such as "Tentai Kansoku", the theme song of a drama series, "Asu no Yozora Shokaihan", a popular vocaloid song and anime theme song "Sorairo Days". Furthermore, the game has a nice touch to it – it does not use the "stamina bar" concept, meaning that you can play as much as you want at any time.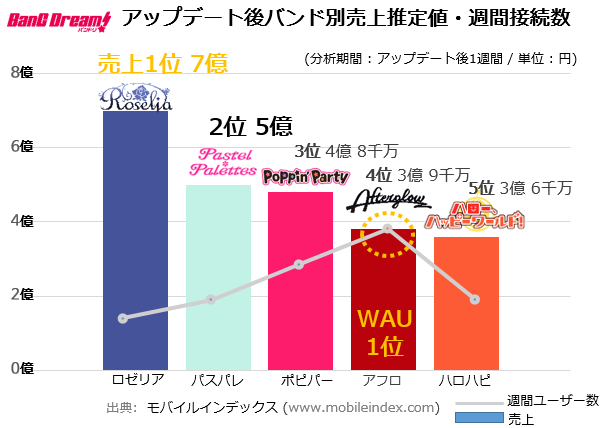 According to sales data gathered a week after the release of each band's 2nd chapter, Roselia takes the top spot with an aggregate of approximately 700 million yen worth of sales. Pastel*Palettes comes in second with 500 million yen, Poppin'Party in third with 480 million, Afterglow in fourth with 390 million and lastly, Hello, Happy World! placing fifth with 360 million yen.
Looking solely at aggregate sales, Roselia is placed first. However, with the data gathered from the user survey results, we will see a difference in the rankings.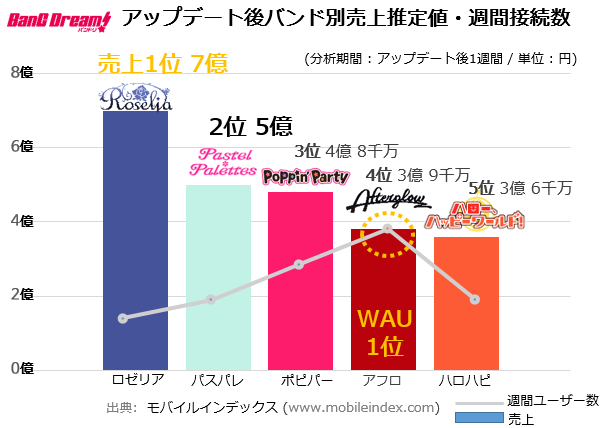 According to user responses, Afterglow, which was placed fourth in terms of sales, takes the top spot as users' favorite with an approximate of 2.02 million votes. Poppin'Party takes second place with 1.87 million votes, Pastel*Palettes in third with 1.62 million votes, Hello, Happy World! in fourth with 1.61 million votes and lastly, Roselia in fifth with 1.57 million votes.
Based on the analysis, the most popular band amongst users would be Afterglow. As for Roselia which has placed last despite the highest sales figures, it could be said that "they may come in last in terms of popularity, but they have fans who are more than willing to spend for their favorites".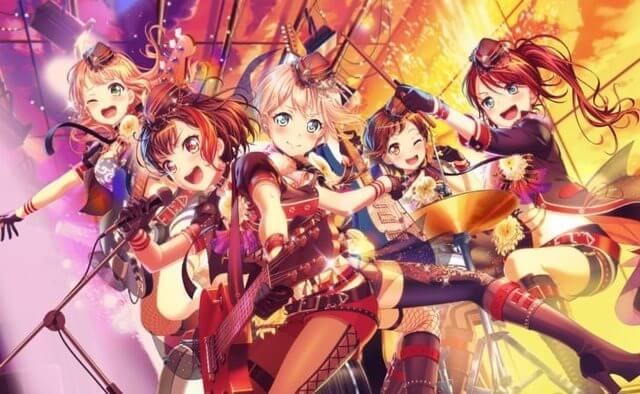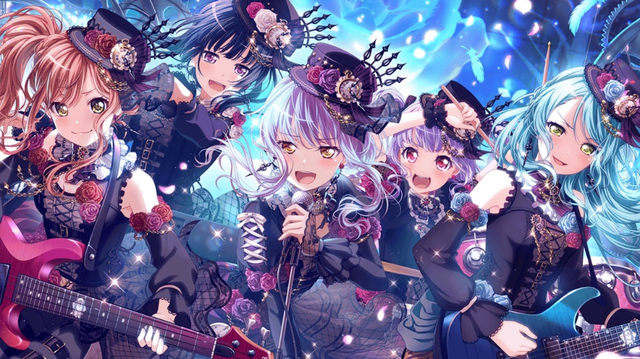 The above analysis made by Mobile Index has shown as such, but factors such as card type and skillsets would definitely affect player decisions when rolling for certain pickup characters on each gacha set in game. With that in mind, the above-mentioned results may vary according to such factors, thus this analysis is just one of the possible ways to determine the ranking.
A more comprehensive report regarding this analysis and other data such as the comparison of sales before and after the chapter update and annual sales figures across various Bushiroad mobile games is available on Mobile Index's website.
You may check out the original report here.
---
Follow us for anime-related news: www.aniplus-asia.com/news

©BanG Dream! Project ©Craft Egg Inc. ©bushiroad All Rights Reserved. ©2016 IGAWORKS & TAPFUNNY

Tags :