The advance screening event of TV anime Kemono Friends 2 took place at Shinjuku Piccadilly on 17 December 2018. The cast and staff – both new and returning – were present and shared their feelings for the upcoming season.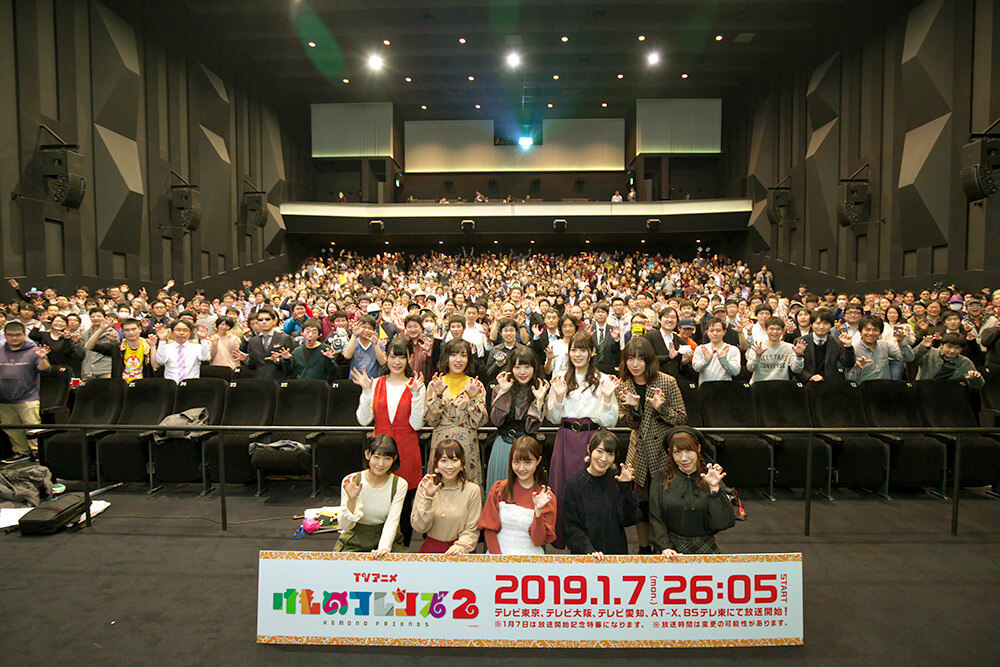 The first episode of the anime was screened, and Yuka Ozaki, the voice of Serval, expressed her delight, "I was so happy to hear that they were planning for Kemono Friends 2. I was nervous and felt uneasy, but as I was watching the first episode a feeling of relief washed over me. I now have the feeling that we're finally back!"
Riko Koike, the voice of new character Caracal, said, "My mind went blank when the cast was announced. I didn't know how much involvement Caracal would have in the story, so I was so surprised when I learned that she does played an active role. I had my share of uneasiness, but with the support from my peer Serval, my fellow cast and the staff, I'll work my hardest."
The staff shared their feelings about the all-new season. Producer Nobuyuki Hosoya said, "It has been a long journey. It's been over a year since our team started working on this project. It was really tough." Director Ryuichi Kimura said, "I was really surprised when Mr. Hosoya gave me a call. I told him, 'if I'm going to do it, I'll put in all I have!' as I accepted his offer."
Producer Shinnosuke Numata, who joined the team after the first season, also commented, "First of all, I was very surprised. I was worried that it'd be difficult, but at the same time it's a rare opportunity to be involved in such a wonderful project, so I gladly accepted the offer. The CG staff are working really hard on this, as though their lives depend on it."
Takuya Masumoto, who oversees series composition and scripts, said, "I wish to create a world where being kind is the right thing to do."
Director Kimura added, "We (the staff) had a common thought, that it'd be great if we could create something new while at the same time retain the goodness (from the previous season)!"
---
The all-new Kemono Friends 2 will begin broadcast from 8 January 2019. The series was voted "Most Anticipated Anime Title for Winter 2019" in a recent survey by Charapedia.
---
Follow us for anime-related news: www.aniplus-asia.com/news

Source: Mantan Web #1, Mantan Web #2

Tags :