We are bringing to you the theatrical release details for KanColle the Movie!
Are you ready for us to bring the movie to the big screens near you? Check out the dates of our one day Fan Screening below:
Singapore: 15 April 2017 (tickets here)
Malaysia: 16 April 2017 (tickets here)
Indonesia: 29 April 2017
Philippines: 06 May 2017
*Dates are subjected to changes
More information about the venue and the screening will be coming to you soon, so stay tuned to our website or Facebook!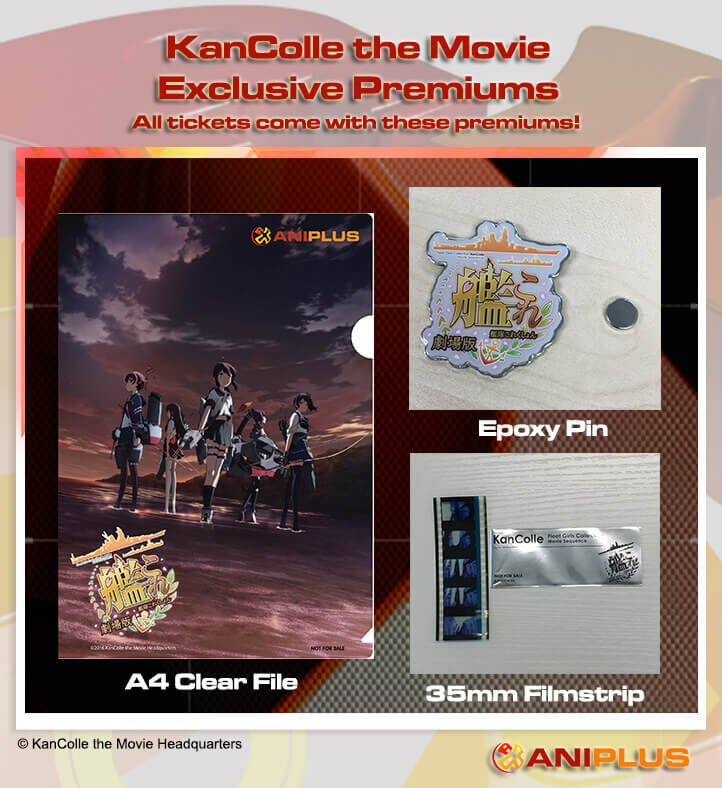 And these are our KanColle the Movie Exclusive Premiums!
Each ticket will come with:
1x KanColle the Movie A4 Clear File
1 x KanColle the Movie Epoxy Pin
1 x KanColle the Movie 35mm Film Strip
The KanColle the Movie A4 Clear File features the Key Visual of the movie. It is definitely a "to-keep" premium, reminding you about the time when you are watching the movie on the big screen in your country!

The KanColle the Movie Epoxy Pin is magnetic, which will allow you to pin the badge anywhere you want, either on your shirt or your bags, without harming the material, unlike the normal safety pins! The magnet is strong, so that it can hold the badge firmly where it is, so be careful when you use it!

Last but not least, the KanColle the Movie 35mm Filmstrip, a must-keep as they are specially imported from Japan! Each filmstrip features FIVE frames from the movie itself, and you will have to see your luck! You might end up getting a strip feature KanMusus, or a strip feature a background from the movie!

So, what are you waiting for? Get your tickets now from the vendors in your respective countries!

Tags :