Genre: Action, Game, Sci-fi, Slice of LifeEpisodes: 1Rated: Rated 13
With the success of the MI Strategy, the headquarters sends the next fighting force towards the south. The battle area continues to increase as they attack the enemy base. With their new Naval base and the accumulation of battle experience, the Fleet Girls continue to come up with new strategies for their battles. Suddenly, an anomaly occurred to the target they were to battle.
What awaits the Fleet Girls are…
EPISODES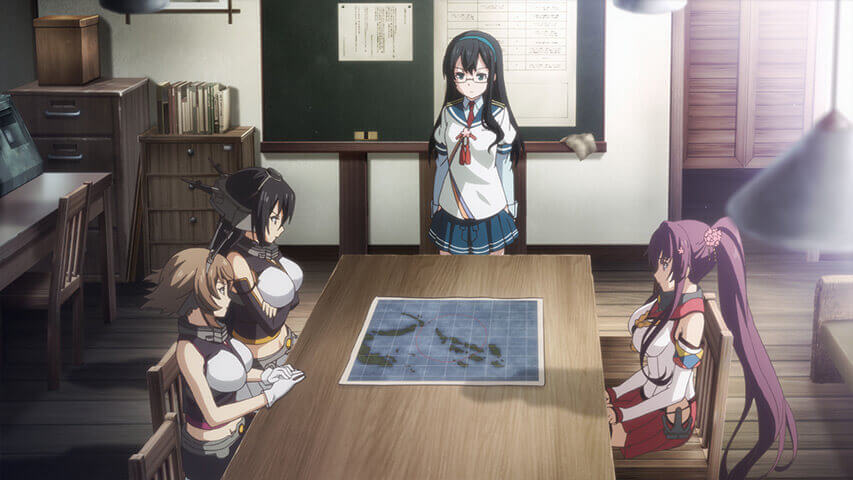 CHARACTERS

Fubuki
A Destroyer KanMusu (Fleet Girl). A newcomer to Chinjufu with no combat experience prior to transferring to the naval academy.

Akagi
An Aircraft Carrier from the 1st Carrier Division of the 1st Air Fleet. She is the pride of the fleet due to her past combat history, and an inspiration for Fubuki.

Mutuski
A Destroyer and the first KanMusu Fubuki meets. A classmate and roommate of Fubuki, she is also a member of the 3rd Torpedo Squadron.

Yuudachi
A Destroyer with a laid back attitude who has a verbal tic. She is a member of the 3rd Torpedo Squadron and a roommate of Fubuki.

Sendai
A Light Cruiser who enjoys night battles. She is the eldest sister of Jintsuu and Naka. She is a member of the 3rd Torpedo Squadron.
CREW
Illustrator
Ide Naomi

Director
Kusakawa Keizou

Artists Voice
Uesaka Sumire as Fubuki; Fujita Saki as Akagi; Hidaka Rina as Mutsuki; Tanibe Yumi as Yudachi; Sakura Ayane as Sendai; Sakura Ayane as Jintsuu

Artists Ending
"Kikan" by Nishizawa Shiena