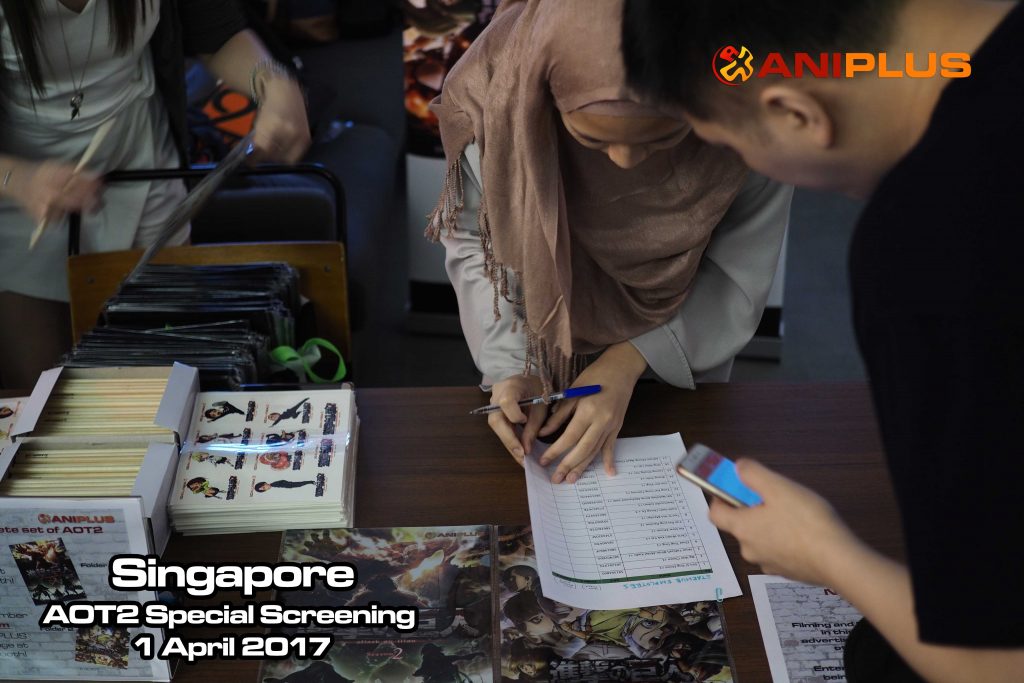 Last weekend on 1 April 2017, ANIPLUS organised two concurrent Special Screening Events just for our Attack on Titan fans in Singapore and Malaysia! Our event were at The Projector at Golden Mile Tower for Singapore, and at Damansara Performing Arts Centre for Malaysia. The venues were cosy and nice for our screening event with the fans.
The venues were both decorated with Attack on Titan Character Standees, and fans from both countries were having fun taking photos with their favourite characters!
It was an enjoyable weekend to see fans interacting with each other, anticipating to watch the premiere of Attack on Titan Season 2 after 4 years since the first season. We heard a lot of discussion about the arcs from the manga they are looking forward to see animated and moving, before the theatres were opened for them to go in.
Old friends met up, and new friends were made, seeing that everyone at the venue in both countries enjoy this creation that we had been patiently waiting.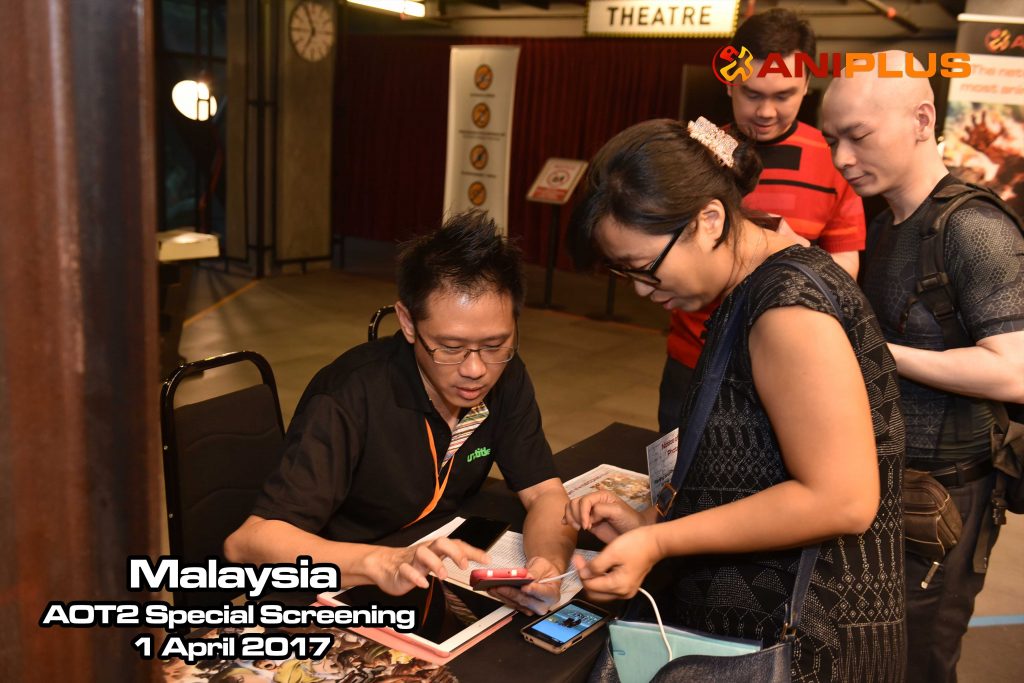 For Malaysia, we managed to invite our 2016 Anime In myLife winner, Rei Lim, to join us at the screening and share her experience about Anime Japan and Anime In myLife! It was an engaging sharing, and we hope to see more people joining, since the lucky winner might be you!

To build up the suspense, and have some recap, ANIPLUS also aired some Original Video Animation that were not seen in both countries before! We've aired No Regrets Part 1 and 2, and Ilse's Notebook for Singapore, and Ilse's Notebook for Malaysia. We are glad to see that our fans were engaged, patiently waiting for the premiere of Attack on Titan Season 2 to start.

Everyone was engaged in the episode when it started and we believe that it is a different experience to be watching it together with fellow fans than to watch it alone at home on the television.

As enjoyable the event was, it had to come to an end. However, the good times were kept in photographs! To see the photographs that we took, head down to our FaceBook Albums (Singapore / Malaysia). We would like to see your photos too!

It had been an enjoyable night for us, and we hope to see you again in our next event.

Tags :