It was revealed in late December 2019 that light novel Hige wo Soru. Soshite Joshikosei wo Hirou. (I Shave My Beard. Then I Pick Up a High School Girl.) will receive an anime adaptation. Today, it has been announced that Project. 9 will be animating the series.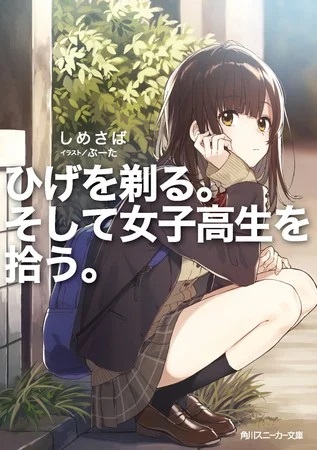 Hige wo Soru. Soshite Joshikosei wo Hirou. light novel cover illustration
Hige wo Soru. Soshite Joshikosei wo Hirou. is a romantic comedy which tells the story between Yoshida, a 26-year-old salaryman, and Sayu, a highschool girl he bumps into on his way home after drowning his sorrows in alcohol after a rejection from his 5-year crush. The two of them somehow end up living under the same roof.
"Office worker Yoshida has been crushing on his coworker, Airi Gotou, for five years. Despite finally scoring a date with her, his confession is promptly rejected. Drunk and disappointed, he stumbles home, only to find a high school girl sitting on the side of the road. The girl, needing a place to stay the night, attempts to seduce Yoshida. Despite rejecting her advances, he nevertheless invites her into his apartment.
The next morning, the girl, introducing herself as Sayu Ogiwara, reveals that she has run away from Hokkaido all the way to Tokyo. During her six-month spree, she continually traded sexual favors for a roof over her head. Yoshida, however, remains unswayed by her seduction. Instead, he has her do a different kind of work—one that entails washing dishes and doing laundry. And so, a touching relationship between a heartbroken adult and a runaway high school girl begins."
The staff were also announced. Manabu Kamikita will serve as Director, while Takayuki Noguchi (Ro-Kyu-Bu!, Tenshi no 3P!) will handle the character designs. Deko Akao will handle the series composition, while Dream Shaft will produce the series and project No.9 (Ryuuou no Oshigoto!, Bottom-Tier Character Tomozaki-kun) will handle the animation production.
Check out the character designs for Yoshida and Sayu:
TV Anime Hige wo Soru. Soshite Joshikosei wo Hirou.
Broadcast details to be announced.
STAFF
Director: Manabu Kamikita
Character Design: Takayuki Noguchi
Series Composition: Deko Akao
Production: Dream Shaft
Animation Production: project No.9

CAST
To be announced
---
Source: natalie

Tags :