A dual-side teaser visual and voiced PV of TV anime Fly Me to the Moon("Tonikaku Kawaii") has been revealed! Yuzaki Tsukasa is voiced by Akari Kito and Yuzaki Nasa voiced by Junya Enoki. Cast comments from both have arrived as well.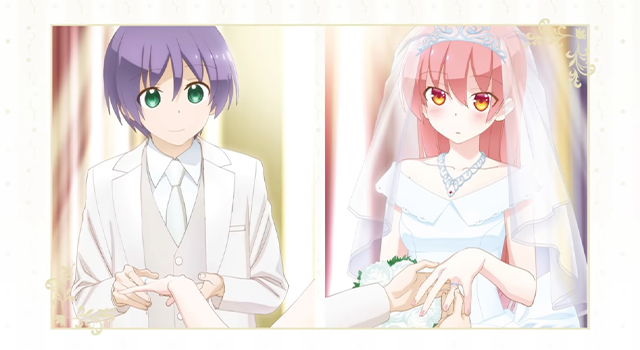 Fly Me to the Moon, is a romance comedy currently serialized on Shogakukan's Weekly Shonen Sunday, and authored by Kenjiro Hata, who is best known for his work on Hayate no Gotoku!.
The story kicks off with the fateful encounter between the mysterious beauty, Tsukasa, and the young man who fell in love with her on first sight, Nasa Yuzaki. Their precious and love-filled newlywed life begins after Tsukasa replies Nasa's confession with "I'll go out with you if you promise to marry me".
Along with the cast announcement (Akari Kito as Tsukasa & Junya Enoki as Nasa), a double-sided teaser visual featuring both characters in their wedding outfits was revealed.
Check out the voiced PV:
In addition to the new visuals, the main staff were also revealed. Hiroshi Ikehata (Seton Academy, Sore ga Seiyuu!) will serve as director, Kazuho Hyodo (Himegoto, ReLIFE) will be in charge of the series composition, Masakatsu Sasaki (Saki, We Never Learn) will handle the animation character designs and Seven Arcs (Magical Girl Lyrical Nanoha, Arte, Dog Days) to handle the animation production.
The TV anime Fly Me to the Moon is slated for a October 2020 release.
Check out the cast comments below!
Tsukasa Yuzaki (CV: Akari Kito)
"Hello, I'm Akari Kito and I'll be voicing Tsukasa Yuzaki! When I first read the manga, I thought it was a really refreshing read! The adorable but yet unique relationship between both characters is completely unpredictable, and I couldn't help but want to know more as I flipped the pages endlessly.
I can't wait to voice the cool but cute Tsukasa!
To meet the expectations of fans who are looking forward to the anime adaptation, I will work my hardest so please support us!"
Nasa Yuzaki (CV: Junya Enoki)
"Even I am filled with happiness when I read the love-filled story between Nasa and Tsukasa. The part where the both of them are slightly airheaded is interesting, but I was struck by Nasa's straightfowardness. I am really happy to be casted for this role.
This story is great for both single and married persons. Please watch it!"
---
Follow us for more anime-related news: https://www.aniplus-asia.com/news

Source: Anime!Anime!

(C)畑健二郎・小学館/トニカクカワイイ製作委員会

Tags :