Additional cast and a new promotional video has been revealed for upcoming TV anime DECA-DENCE which is slated for a 8 July release.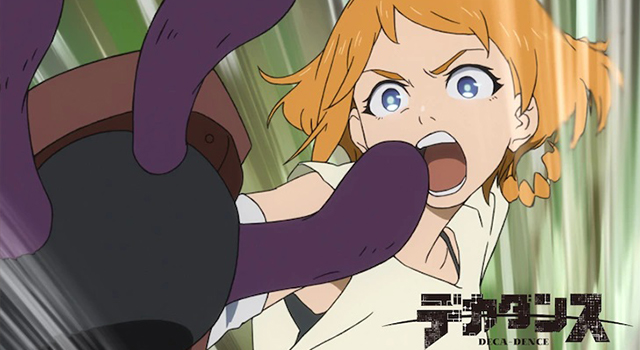 The latest PV features the Opening Theme "Theater of Life" by Konomi Suzuki.
Using a time-lapse of pomodorosa's original character concept illustration, the Ending Theme "Kioku no Hakobune" by Kashitaro Ito was also revealed.
Furthermore, the following additional cast has been announced:
Kosuke Toriumi as Minato
Eri Kitamura as Kurenai
Mei Shibata as Fei
Yoshino Aoyama as Linmei
Eiji Takeuchi as Fennel
DECA-DENCE is a fantasy that tells the story of humanity's daily lives aboard the Deca-Dence, a gargantuan mobile fortress humanity has built to protect themselves against an unknown threat, the Gadoll. Yuzuru Tachikawa serves as Director while Hiroshi Seko penned the scripts.
The main cast and Key Visual were released earlier back in May 2020.
TV Anime DECA-DENCE
Slated for 8 July 2020 broadcast
STAFF

Original Creator: DECA-DENCE PROJECT
Director: Yuzuru Tachikawa
Series Composition / Script: Hiroshi Seko
Character Design / Chief Animation Director: Shinichi Kurita
Character Concept Design: pomodorosa
Cyborg Design: Kiyotaka Oshiyama
Deca-Dence Design: Hiromatsu Shuu
Gadoll Design: Satoshi Matsuura
Sub Character Design: Hiromi Taniguchi, Ayu Ogata
Battle Concept Design: Tetsuya Masuda
Prop Design: Fuminori Tsukita, Hiyori Denforword Akishino (Aki Production)
Visual Concept: Izumi Murakami
Art Director: Kei Ichikura
Color Design: Chie Nakamura
Director of Photography: Makishi Uehama
3D CGI Director: Masato Takahashi
Editing: Yumi Jinguji
Music: Masahiro Tokuda
Sound Director: Fumiyuki Go
Animation Production: NUT
Producer: DECA-DENCE PROJECT
Opening Theme Song
"Theater of Life" by Konomi Suzuki
Ending Theme Song
"Kioku no Hakobune" by Kashitaro Ito
CAST
Katsuyuki Konishi as Kaburagi
Tomori Kusunoki as Natsume
Kosuke Toriumi as Minato
Eri Kitamura as Kurenai
Mei Shibata as Fei
Yoshino Aoyama as Linmei
Eiji Takeuchi as Fennel
---
Follow us for more anime-related news: https://www.aniplus-asia.com/news

Source: natalie

(c)DECA-DENCE PROJECT

Tags :