The TV commercial for the collaboration between popular TV anime series Neon Genesis Evangelion and mobile game Nyanko Daisensou (aka Battle Cats) has been revealed. The commercial features Evangelion's main theme song "A Cruel Angel's Thesis" (known as Zankoku na Tenshi no Thesis) by the original artiste Yoko Takahashi. However, this time, all the lyrics are changed into "nya"!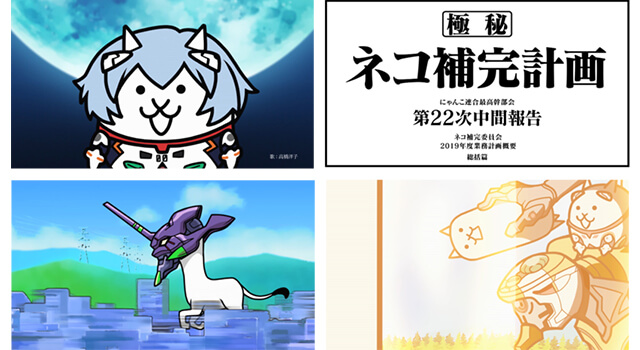 Not only that, Kotono Mitsuishi, the voice of Misato Katsuragi, was invited to do the narration of the commercial. While Takahashi's meows reverberate with the anime's theme song, Nyanko Daisensou's characters make their entrance, nostalgic Evangelion animation style.
Check out the TV commercial:
Intro. version
Chorus version
Be right back, we're busy collecting the new cats!
---
Source: AnimeAnime!

『にゃんこ大戦争』(C)PONOS Corp. all rights reserved.
『エヴァンゲリオン』(C)カラー

Follow us for anime-related news: www.aniplus-asia.com/news

Tags :