Genre: Mystery, Suspense, ThrillerEpisodes: 13Rated: Rated PG
In a city which should be familiar, something feels a little different.
Odokawa is a slightly eccentric and quiet taxi driver who leads an ordinary life. He picks up quirky passengers every time — Kabasawa, a college student who wants to go viral, Shirakawa, a nurse who's hiding something, Homo Sapiens, an unpopular comedian duo, Dobu, a city hoodlum, and Mystery Kiss, a rookie idol group.
The mundane conversations held with these passengers, which should not have meant much in life, eventually lead to a girl who supposedly disappeared.
EPISODES
CHARACTERS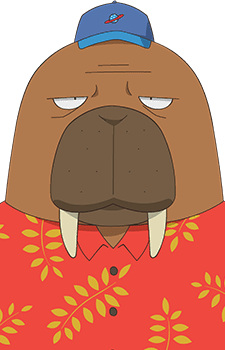 Odokawa
Odokawa, a 41-year-old taxi driver, is an eccentric and quiet person who does not open up to others. He has a serious and compassionate side. His hobbies include listening to rakugo before going to bed and listening to the radio while working.
CREW
Animation Studio
OLM, P.I.C.S

Director
Baku Kinoshia

Script
Kazuya Konomoto

Artists Voice
Natsuki Hanae as Odokawa; Ryohei Kimura as Goriki, Kappei Yamaguchi as Kakihana, Riho Iida as Shirakawa

Artists Opening
ODDTAXI by Skirt and PUNPEE

Artists Ending
Sugarless Kiss by Suzuko Mimori