ANIPLUS Asia is proud to announce our new prize sponsor for Anime in myLife – asobi!

What is asobi!
asobi! is a brand new concept store for hobby enthusiasts to gather, share and play! Combining activities, leisure, retail, and showroom, you can get the full experience of your hobbies in their shop in Singapore.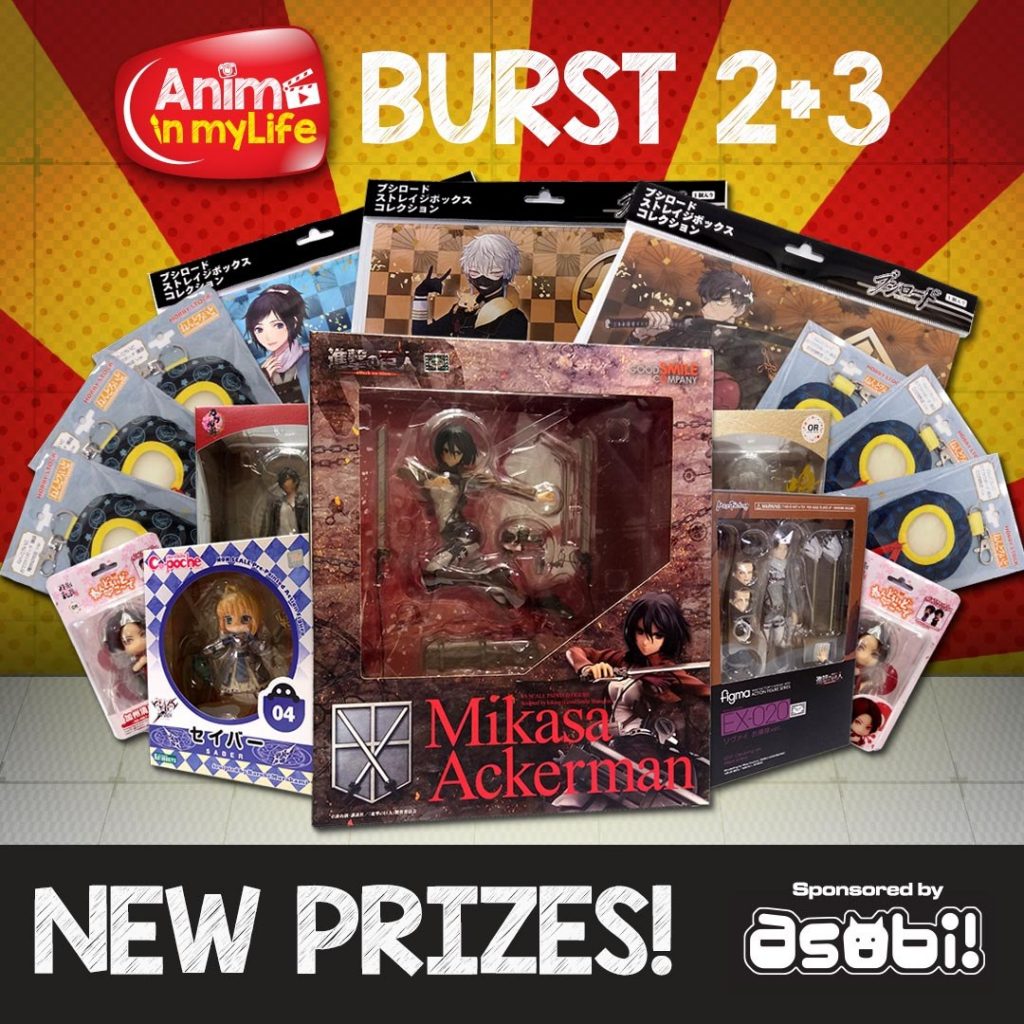 NEW PRIZE STRUCTURE
The campaign for anime fans by anime fans is now updated with a new prize structure! With the 2 bursts combined, 3x Top Prizes and 15x Runner Ups will be chosen to win fabulous prizes from our new prize pool*, which includes Touken Ranbu figurines and storage boxes, Cupoche figurines, and an Attack on Titan Mikasa Ackerman Figure!
*Full Prize Pool Below
SUBMISSIONS
As before, there are 4 categories to this campaign. Submit your entries on any of them to stand a chance to win!
DRAW – For fanarts, illustrations, or inspired OC (original characters) designs!
FILM – For videos of your experiences, story, or just a clip of you speed-painting for your fanart!
SNAP – For photos, pictures and screenshots of your best creative efforts!
WRITE – For stories, be it biographies, fanfics or scripts; if you are expressing in words, this is it!

Submission Deadline: 1 November, 2017

For more information on the prizes and how to submit, check out our page here:
Main: https://www.aniplus-asia.com/anime-in-my-life
Submission: https://www.aniplus-asia.com/aiml-submission-landing
Prizes: https://www.aniplus-asia.com/aiml-prizes

TOUKEN RANBU
Orange Rouge Okurikara 1/8 Figure x1
Orange Rouge Nakigitsune 1/8 Figure x1
Nendoroid Co-de Kashu Kiyomitsu x2
Nendoroid Pouch Mikazuki Munechika x5
Nendoroid Pouch Shokudaikiri Mitsutada x5
Bushiroad Storage Box (Assorted) x15

ATTACK ON TITAN
Mikasa Ackerman 1/8 Figure x 1
figma Levi:Cleaning Version x 5

FATE/STAY NIGHT
Cu-poche Saber x5

Tags :