A 70-minutes anime adaptation based on the idol-raising simulation game Tokyo 7th Sisters has been announced for a theatrical release this Summer. The film is titled "Tokyo 7th Sisters -Bokura wa Aozora ni Naru-".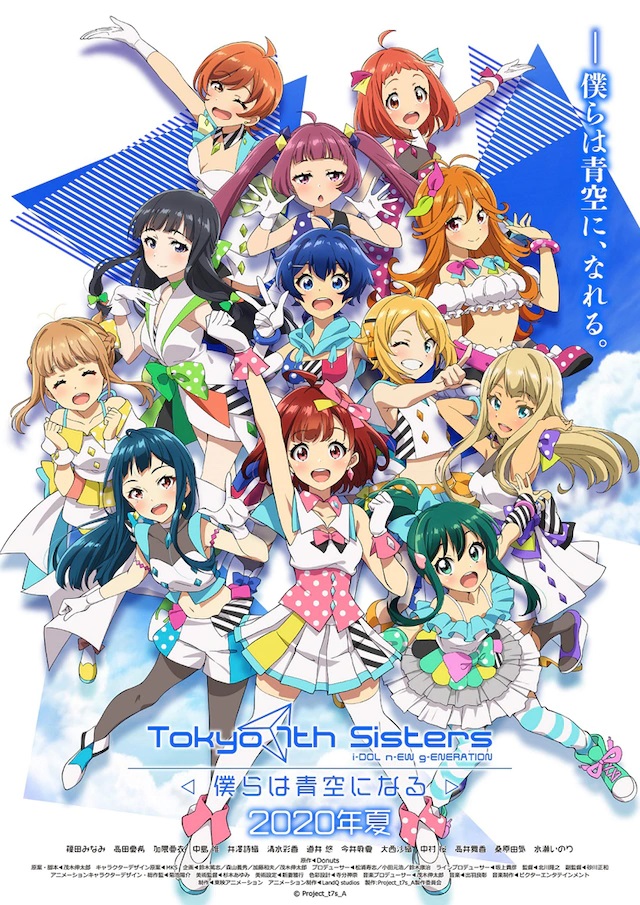 Tokyo 7th Sisters, also known as ナナシス ("NanaSis") in Japan, is a smartphone game that follows a story that happens in the "Theater-type Studio 777 (three seven)", where the player joins as the second generation manager. The game started its service in 2014, and currently has a player base of over 2 million. The franchise also held live concerts where the cast performed in venues such as the Nippon Budokan and Makuhari Messe.
To commemorate the game's 6th anniversary, the 70-minutes film was announced. The film will feature an all-new original story revolving around the game's main idol unit 777☆SISTERS while touching on parts of the in-game episodes and songs. The newly-revealed key visual features the 12 main characters of the story.
Check out the announcement video:
Furthermore, the staff for the film has also been revealed. Shintaro Motegi, also the chief director of the game will serve as the scriptwriter and music producer of the film. Takayuki Kitagawa will direct the film. LandQ studio will be handling the animation with some involvement from Toei Animation. The cast will follow the same as the game.
Here are some comments from Motegi and Kitagawa:
Shintaro Motegi (Planning / Scriptwriter / Music producer)
"It's been 6 years since I worked on NanaSis. There's been many encounters, and this time I am blessed with yet another wonderful one. It has been years since I've wanted to see NanaSis being animated.
Through this opportunity, I would like NanaSis to become an entertainment that fans and everyone else can enjoy. Holding on to these feelings, I am working hard with the staff on the anime production."
Takayuki Kitagawa (Director)
"While I feel the pressure of my involvement with a well-established project like Tokyo 7th Sisters, I am working hard with Motegi-san and the rest of the staff to bring out the best in NanaSis.
"To give someone a push on the back". It'll be wonderful if we can achieve the kind of portrayal that can only be seen in animation. I look forward to seeing you at the cinemas. Please look forward to Summer 2020."
Tokyo 7th Sisters -Bokura wa Aozora ni Naru-
Staff
Original Creator: Donuts
Original Concept / Script: Shintaro Motegi
Original Character Design: MKS
Planning: Shintaro Motegi, Yoshihide Moriyama, Kazuo Kato
Producer: Hisashi Matsuura, Koji Suzuki, Motohiro Oda
Line Producer: Takahiko Sakagami
Director: Takayuki Kitagawa
Vice-Director: Masakazu Sunagawa
Animation Character Design / Chief Animation Director: Yosuke Kikuchi
Art Director: Ayumi Sugimoto
Art Setting: Seiko Niizuma
Color Setting: Kanna Terawake
Music Producer: Shintaro Motegi
Music: Yoshiaki Dewa
Music Production: Victor Entertainment
Production: Toei Animation
Animation Production: LandQ studios
Producers: Project_t7s_A Production Committee
Cast
Minami Shinoda as Haru Kasukabe
Yuki Takada as Musubi Tendoji
Ai Kakuma as Rona Tsunomori
Yui Nakajima as Hime Nonohara
Shiori Izawa as Momoka Serizawa
Ayaka Shimizu as Sumire Usuta
Haruka Michii as Sui Kamishiro
Asaka Imai as Shizuka Kuonji
Saori Onishi as Alessandra Susu
Sakura Nakamura as Sawara Harumi
Maika Takai as Sawara Kajika
Yuki Kuwahara as Sawara Shinju
Inori Minase as Niko Rokusaki / Nicole Nanasaki
and more…
---
Follow us for anime-related news: www.aniplus-asia.com/news

Tags :