It has been announced that the second season of The Rising of The Shield Hero will premiere in 2021! A new visual, teaser video and main staff have been revealed as well.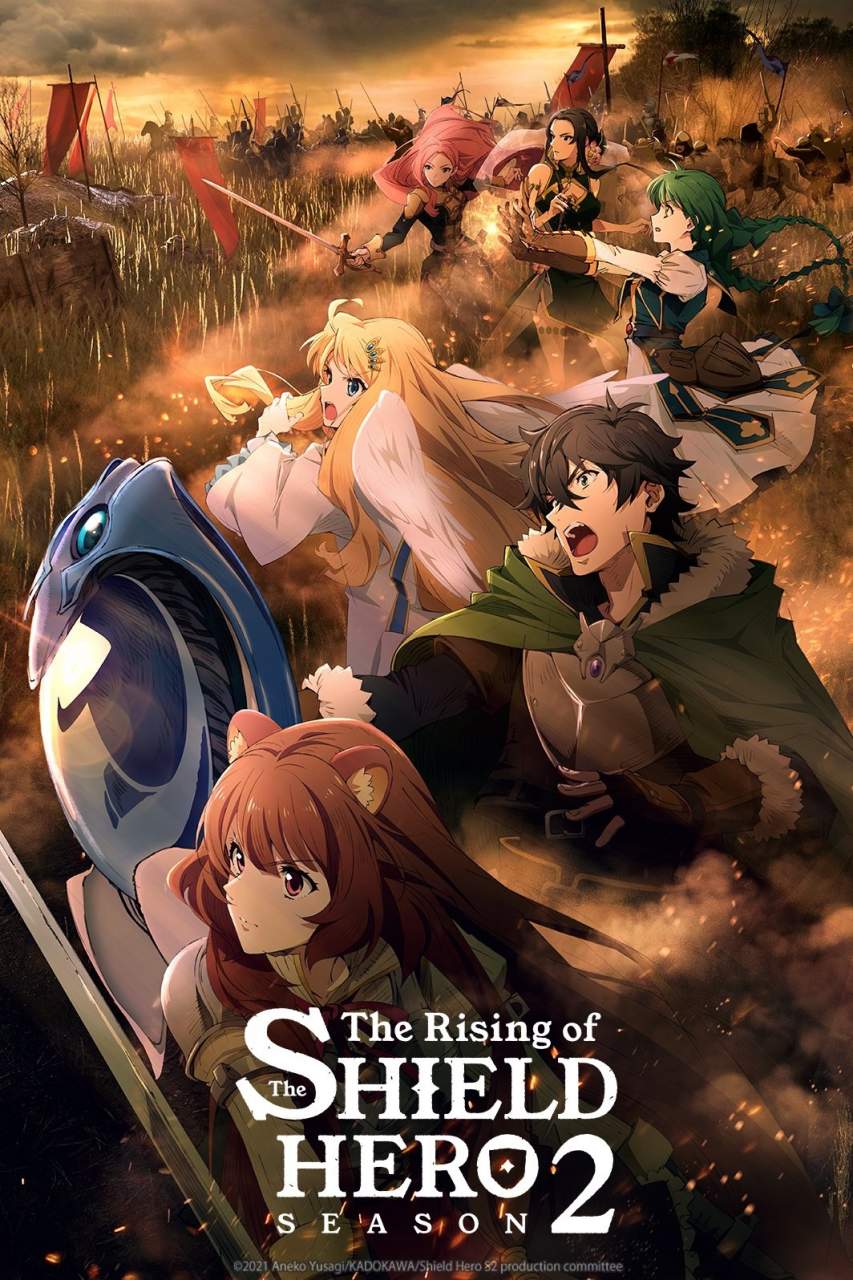 The Rising of The Shield Hero Season 2 new visual
The latest visual features Naofumi with Raphtalia and Filo, along with their latest party member Rishia (who joined at the final episode of S1) and two other characters who will make their appearance in the new season.
TVアニメ『盾の勇者の成り上がり』Season 2 PV第1弾解禁
‼🛡✨ 
Season 2 1st Trailer revealed‼🛡✨

立ち止まるな──
災厄は、想像を超える

これまでの軌跡をたどり、
新たな冒険へ旅立つ尚文たち。

2021年放送決定です‼https://t.co/ZEcNaHyUsG#shieldhero#盾の勇者の成り上がりTVアニメ pic.twitter.com/O0D5xXwHZZ

— TVアニメ『盾の勇者の成り上がり』@Season 3 10月放送開始 (@shieldheroanime) September 5, 2020
An English subbed version was also released on the official English twitter of the series:
I'll protect them, no matter what. 🛡 #ShieldHeroReturns 2021. #VCRX pic.twitter.com/hrwCHHpDgZ

— The Rising of the Shield Hero (@ShieldHeroEN) September 5, 2020
The main staff of the second season has also been revealed. Masato Jinbo (ChaoS;Child, Fate/kaleid Iiner Prisma☆Illya series) will take over as Director and Kinema Citrus will continue to handle the animation, this time working with DRMOVIE.
TV Anime The Rising of The Shield Hero Season 2
Slated for 2021 release
STAFF
Original Creator: Yusagi Aneko (author), Seira Minami (illustrator)
Director: Masato Jinbo
Character Design: Masahiro Suwa
Series Composition: Keigo Koyanagi
Chief Animation Director: Masahiro Suwa / Kota Sera
Design Leader: Takakura Takeshi
Prop Design: Ryo Hirata / Mikio
Costume Design: Kahoru Fujiki
Art Director: Masaru Sato
Art Design: Naomi Ogura
3DCG Director: Hiroshi Go
3DCG: ENGI&GOES
2D Artist: hydekick
Motion Graphics: Hidekatsu Uemura
Color Setting: Aiko Matsuyama
Photography Director: Sachiyo Kajiwara
Editor: Hitomi Sudo
Sound Production: Glow Vision
Sound Director: Fumitaka Go
Music: Kevin Penkin
Music Procuder: Shunichi Uemura / Hiromitsu Iijima
Animation Production: Kinema Citrus / DRMOVIE
Production: Shield Hero Production Committee S2

CAST
Kaito Ishikawa as Naofumi Iwatani
Asami Seto as Raphtalia
Rina Hidaka as Filo
Yoshitsugu Matsuoka as Ren Amaki
Makoto Takahashi as Motoyasu Kitamura
Yoshitaka Yamaya as Itsuki Kawasumi
Natsuko Hara as Rishia
Maaya Uchida as Melty
Kikuko Inoue as Mirellia

It was revealed during the Crunchyroll Expo which happened in 30 Aug to 1 Sep 2019 that both a second and third season were in production.
Check out the congratulatory tweet by Seira Minami, the illustrator of The Rising of The Shield Hero light novel series!
アニメ「盾の勇者の成り上がりSeason2」2021年放送決定おめでとうございます! 楽しみです!

きっと2期で活躍するお二人。#盾の勇者の成り上がり#ShieldHero pic.twitter.com/t9kHb2zGyt

— 弥南◆FANBOX始めました (@liberation_zone) September 5, 2020
How will these two characters come together and be involved with Naofumi's party?
No exact release date has been announced yet; let's look forward to 2021!
---
The Rising of The Shield Hero was simulcast from January to June 2019 on ANIPLUS Asia in Southeast Asia.
---
Source: The Rising of The Shield Hero Official Twitter

©2019 Aneko Yusagi/KADOKAWA/Sheild Hero production committee

Follow us for anime-related news: www.aniplus-asia.com/news

Tags :