"RWBY: Ice Queendom" never ends! A collaboration online live with Void_Chords (composer for tunes in the program) will be taking place on 26 November 2022, with a live stream available worldwide!
Like its title "Best Day Ever", don't miss this chance to enjoy the world of RWBY with fans all over the world on this special night!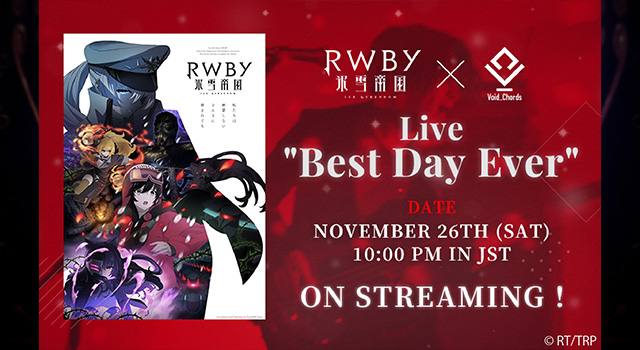 Online Live Special Website:
https://anime.team-rwby-project.jp/en/special/music-live/
TV anime "RWBY: Ice Queendom", adapted from US-born 3D anime "RWBY" by Rooster Teeth Productions, is produced by Gen Urobuchi (NITRO PLUS), Tow Ubukata, huke, Toshimasa Suzuki, SHAFT, and featured tunes composed by Void_Chords.
An online live mixing the world of RWBY and Void_Chords' performance will be streaming worldwide soon, and tickets and goods have begun selling!
★ "RWBY: Ice Queendom"×Void_Chords Live "Best Day Ever" Details ★
【Schedule】
November 26, 2022 (Sat.) START 22:00 (JST)
*Archive available till December 3, 2022 (Sat.) 23:59 (JST)
【Cast】
Void_Chords  Ryo Takahashi
【Special Band】
Vo. nanaha / Gt. Yuichi Kitajima / Key. Kuwagata Fukino / Dr. Nozomu Kitamura / Sax. Saeka
【Streaming Area】
<North and South America>
America, Canada, Brazil
<Asia Pacific>
Japan,Taiwan, South Korea, Hong Kong, Macau, Singapore, Thailand, Indonesia, Malaysia, Philippines, Australia, New Zealand
<Europe>
The United Kingdom (U.K.)
【Ticket Price】
Virtual ticket: JPY 4,180 (tax included) *Digital bonus included
【Sales period】
October 31, 2022 (Mon.) 17:00 (JST) – December 3, 2022 (Sat.) 22:30 (JST)
【Sales URL】
https://ib.eplus.jp/rwbylive
※Please make sure to purchase your ticket in advance. If you purchase just before the start of the show, you may have to start watching from the middle.
※This is a pre-recorded program.
※For more information about the schedule and archive details, please check on the website.
【Notes about Event】
※All the contents (including audio) are protected by copyright. Screen shooting, filming, and recording with cameras, smartphones, etc. are all strictly prohibited. In addition, if you share it on a video site without permission, you may be liable for legal liability. Commercial use of live stream video is prohibited. This includes broadcasting live stream videos in restaurants, halls, etc. for a fee paid by the audience.
※Please refrain from watching with a large number of people from the viewpoint of preventing the spread of COVID-19.
---
RWBY: Ice Queendom simulcasted from July to September 2022 on ANIPLUS Asia in Southeast Asia.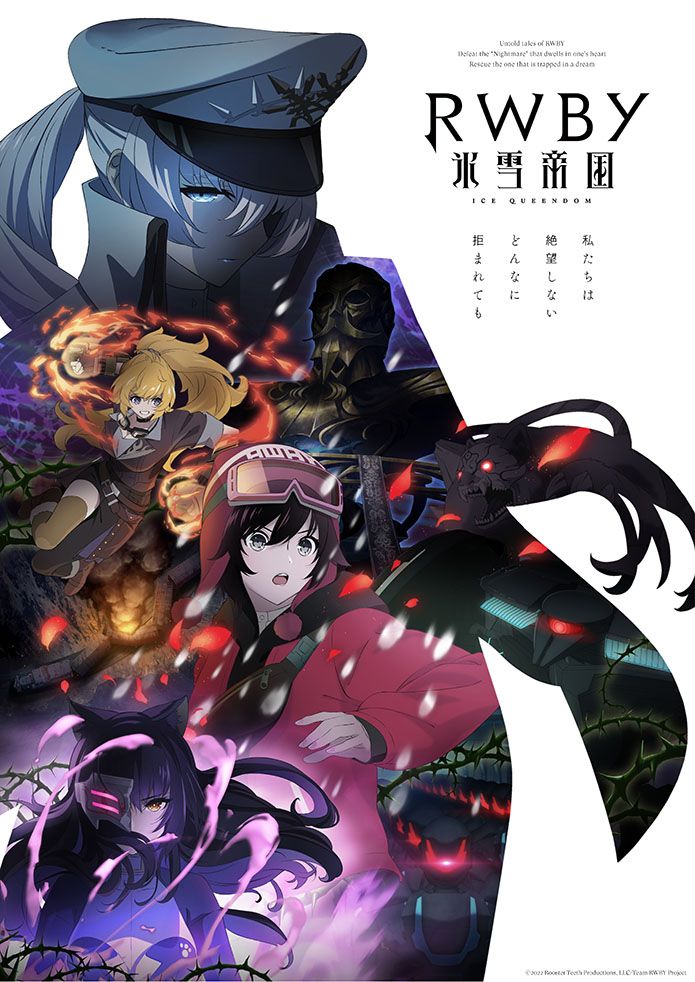 ---
Source: Press Release

【Inquiry about the Event】https://information-desk.info/

【Streaming and ticketing inquiries】https://eplus.jp/ib-inquiry/

【User Guide】https://eplus.jp/sf/guide/streamingplus-userguide/en

【Q&A】https://eplus.jp/sf/guide/streamingplus-userguide/qa/en

Tags :