A spin-off TV anime of the classic fan-favorite Inuyasha, titled Yashahime: Princess Half-Demon has been announced! The spin-off, featuring the story between Inuyasha and Sesshomaru's daughters, is slated for a Fall 2020 release.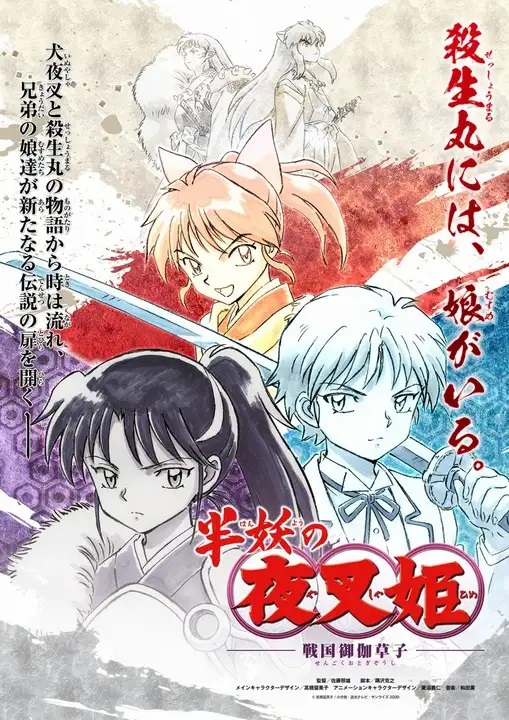 Yashahime: Princess Half-Demon is a spin-off to the story of Inuyasha written by Rumiko Takahashi. The brand new story that revolves around the two main proganonists, Sesshomaru and Inuyasha's daughters, will be animated by Sunrise, the animation studio that also handled the original TV anime series.
The spin-off will be directed by Teruo Sato, who served as assistant director for InuYasha: The Final Act. Previous staff who also worked on Inuyasha will return, such as Katsuyuki Sumisawa who will handle the series composition, Yoshihito Hishinuma in charge of the anime character designs and Kaoru Wada to compose the music.
Inuyasha was serialized from 1996 to 2008 on Shogakukan's Weekly Shonen Sunday. The story follows the encounter between a half-demon born between a demon and a human—Inuyasha— and Kagome, a middle-school girl who time-traveled into the warring states period. The TV anime series of Inuyasha aired from October 2000 to September 2004, while InuYasha: The Final Act aired from October 2009 to April 2010. Four film adaptations were also released.
Yashahime: Princess Half-Demon English Synopsis (by Viz Media)

The daughters of Sesshomaru and Inuyasha set out on a journey transcending time. Set in feudal Japan, half-demon twins Towa and Setsuna are separated from each other during a forest fire. While desperately searching for her younger sister, Towa wanders into a mysterious tunnel that sends her into present-day Japan, where she is found and raised by Kagome Higurashi's brother, Sota, and his family.
Ten years later, the tunnel that connects the two eras has reopened, allowing Towa to be reunited with Setsuna, who is now a demon slayer working for Kohaku. But to Towa's shock, Setsuna appears to have lost all memories of her older sister. Joined by Moroha, the daughter of Inuyasha and Kagome, the three young women travel between the two eras on an adventure to regain their missing past.
---
Follow us for more anime-related news: https://www.aniplus-asia.com/news

Source: Mantan Web

(C)高橋留美子/小学館・読売テレビ・サンライズ 2020(C)高橋留美子/小学館・読売テレビ・サンライズ 2020

Tags :