Weekly Shonen Jump (Shueisha) announced that the serialisation of Dr. Stone will be adapted into an anime series, and that it will begin broadcast in July 2019. This news was revealed in issue 51 that was released on 19 November 2018.
Yusuke Kobayashi has been cast to voice protagonist Senku.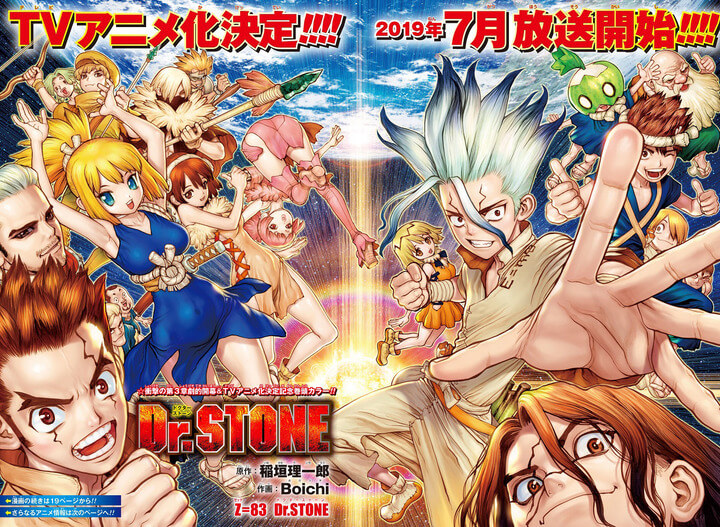 This work is written by Riichiro Inagaki (Eyeshield 21) and drawn by Boichi (Sun-Ken Rock, Origin). It started serialisation on Weekly Shonen Jump in March 2017. It tells the story set thousands of years in the future where all of humanity was suddenly petrified, with everyone turning into stone from a mysterious phenomenon. A boy with a superhuman brain called Senku awakes and amidst the extreme conditions, searches for comrades and vows to recover the world. Senku will make use of science and try to build civilization from scratch.
Comment from author Riichiro Inagaki:
I will be supervising all the scripts! It will follow closely with the original work, right down to the dialogue, though there will be some additional scenes. How will the animation look in a world where all the human have been petrified for thousands of years? I cannot wait!!
Comment from illustrator Boichi:
I would like to learn a lot from the anime version of "Dr. Stone" and then make a better "Dr. Stone"! I would like to use this opportunity to learn and grow. I am looking forward to anime!!
---
Follow us for anime-related news: www.aniplus-asia.com/news

Source: Mantan Web

(C)米スタジオ・Boichi/集英社(C)米スタジオ・Boichi/集英社・Dr.STONE製作委員会

Tags :