Is It Wrong to Try to Pick Up Girls in a Dungeon?: Arrow of Orion is the film adaptation of widely-popular TV anime series, Is It Wrong to Try to Pick Up Girls in a Dungeon?, also known as DanMachi. The movie went up on cinemas across Japan in 15 February this year.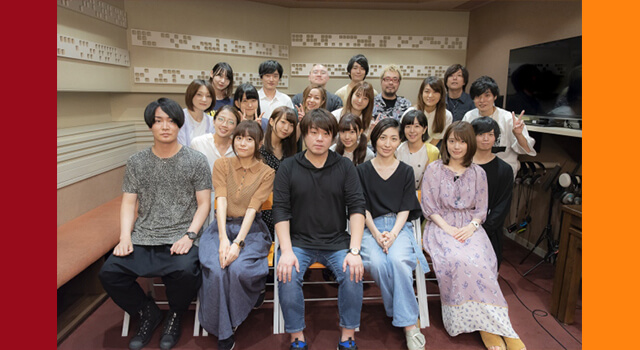 ANIPLUS Asia will be bringing the movie to our DanMachi fans in Singapore on 6 and 7 April 2019, exclusively at Golden Village Plaza Singapura.
ANIPLUS Asia will also be bringing the movie to the respective regions:
Malaysia
Indonesia
Philippines
Thailand
More details will be released on a later date.
Prior to the movie release, we bring you the pre-release comments from the cast.
[Editor's note: the following content is the translation of an article published on 8 February 2019 by Anime Recorder]
Is It Wrong to Try to Pick Up Girls in a Dungeon? Movie Cast Comments by:
Yoshitsugu Matsuoka (voice of Bell Cranel)
Inori Minase (voice of Hestia)
Maaya Sakamoto (voice of Artemis)
Maaya Uchida (voice of Liliruca Arde)
Yoshimasa Hosoya (voice of Welf Crozzo)
Soma Saito (voice of Hermes)
Saori Hayami (voice of Ryu Lion)
Ai Kayano (voice of Asfi Al Andromeda)
Q1: It has been around four years since the release of the TV anime series in 2015, and we're finally seeing DanMachi on the big screen. Please tell us how you feel now.
Matsuoka: I'm just so happy. Over these four years, we've seen DanMachi grow with the original TV series from Bell's perspective, Sword Oratoria from Aiz's perspective, and the games Cross Istoria (spin-off mobile game), DanMachi Memoria Freese (mobile game) and DanMachi Infinite Combate (PS Vita, PS4 game). We're getting all warmed up and here comes the movie! It's a movie!
"We did it, Goddess!!" is how I feel right now.
I'd like to give a deep bow to Goddess alongside Omori-sensei (laughs). Not to mention, it's a new original story by Omori-sensei! The timeline of the story is set between Season 1 and 2, so I'd urge everyone to watch the movie before Season 2 arrives.
Minase: Hestia was my very first main heroine role in any TV anime series. I feel extremely blessed to have made this far with her. I was full of uneasiness and nervousness four years ago, but now I can confidently play my role as Hestia!
Sakamoto: It's a great honor to be a part of this magnificent team of the highly anticipated film adaption of this widely-popular title. The character I play will be making her first appearance in the series, so I'm nervous, but at the same time excited to see the fan reactions.
Uchida: I had so many opportunities to play my role as Liliruca, so much that it didn't feel like four years have already passed. We're finally getting a film, so I'm really happy!
Hosoya: I personally think that releasing an anime film at this timing is like relaying a message to the fans that "there's still many more to come". So, I believe that'll definitely happen.
Saito: It's already been four years since the TV series aired! I knew right from the start that DanMachi would make it onto the big screen and also as a fan of the series, I'm so happy that we're getting a movie!
Hayami: It's been four years, huh? In the TV series, I've played Ryu-san, who is a kind person with few words, with a peaceful mind. I've had lots of fun watching the side of her that's slightly mischievous in the game and other works. Now that she's finally appearing in the movie, I'm getting really excited.
Kayano: It's thanks to everyone's support that we've come this far, so I'm very grateful. I'm going to enjoy all the cute and cool scenes to my fullest, on the big screen!
Q2: In short, what is the charm of this DanMachi movie?
Matsuoka: I'd say, everything! This, that and that!
It's a great film that'll make you laugh and cry. Artemis-sama will be… that, you know. After the preview session for related parties, Omori-sensei sent me a LINE message, saying that "I know I wrote this story, but I'm so touched to see xx in DanMachi and I'm really glad to have been involved."
So now I can confidently say this: It's the best!
Minase: That goes without saying, it's our new character, Artemis! The mysterious power she harnesses holds yet a different charm from those of the other characters we've seen so far! I'd love if everyone would pay some attention to the relationship between Artemis, Hestia and Bell.
Sakamoto: Artemis, the character I play, is a mysterious girl, but I'd be happy if everyone would look forward to learning about her as the story develops.
Uchida: Watching the characters go on the big screen! Artemis is wonderful and cute! Lili and Hestia's obligatory cat fight (laughs)
Hosoya: The charm, is Maaya Sakamoto-san. I kid you not. I just don't want to spoil it for you.
Saito: There's plenty, but they'll become spoilers so I can't tell you…! (laughs) Having that said, Hermes will have a lot of screen time from the start of the movie, so personally I'd love if you would pay attention to his actions! Artemis is really cute too, so check her out!
Hayami: I personally feel that it's a film that you'd want to catch as you welcome Spring—as the air transitions from cold to warm. As for Ryu-san, do check out her powered-up Luminous Wind.
Kayano: The scenes when the goddesses interact are so cute… They're so precious it makes my heart ache. As for Asfi, it'll be the parts where Hermes-sama always tries to slip away (laughs)
Q3: Please give a message to the fans who are looking forward to the movie.
Matsuoka: The DanMachi film is really thought-provoking—what if you were in Bell's shoes, what kind of hero you'd want to be, the reason why he was chosen—I believe it'll resonate in everyone's hearts.
Is It Wrong to Try to Pick Up Girls in a Dungeon?: Arrow of The Orion will be in theatres soon, please look forward to it.
Minase: This movie is filled with kind, warm and fleeting feelings, camaraderie and friendship. As much as the scenario did, I've breathed life into Hestia using my utmost effort! Please watch the movie and I hope you'll feel our passion as well.
Sakamoto: This is a grand story that can only be presented in a movie and it'll definitely appeal to all DanMachi fans and of course, those who are new to the series. Please give it a go, and experience it on the big screen.
Uchida: Thank you for waiting! Just like how everyone is excited for the movie, I've been looking forward to it as well. Please, enjoy the world of DanMachi to your fullest!
Hosoya: I'd like to reach everyone through TV or the big screen once again, when your support turns this series into a big hit. Thank you very much for your continuous support for DanMachi.
Saito: The cast members have been looking forward to this day, when we can finally show you the movie! DanMachi's world has just grown into a larger scale, so please enjoy it! Thank you for your support!
Hayami: Finally, the DanMachi movie will show in theatres soon. Please enjoy both the intense battle scenes and the touching story on the big screen. If you would, please not only watch the movie once, but twice or even thrice!
Kayano: Fun, cute, intense and sad at times—it's a story that rouses many emotions in you. Please witness Bell and his comrades' battle on the big screen!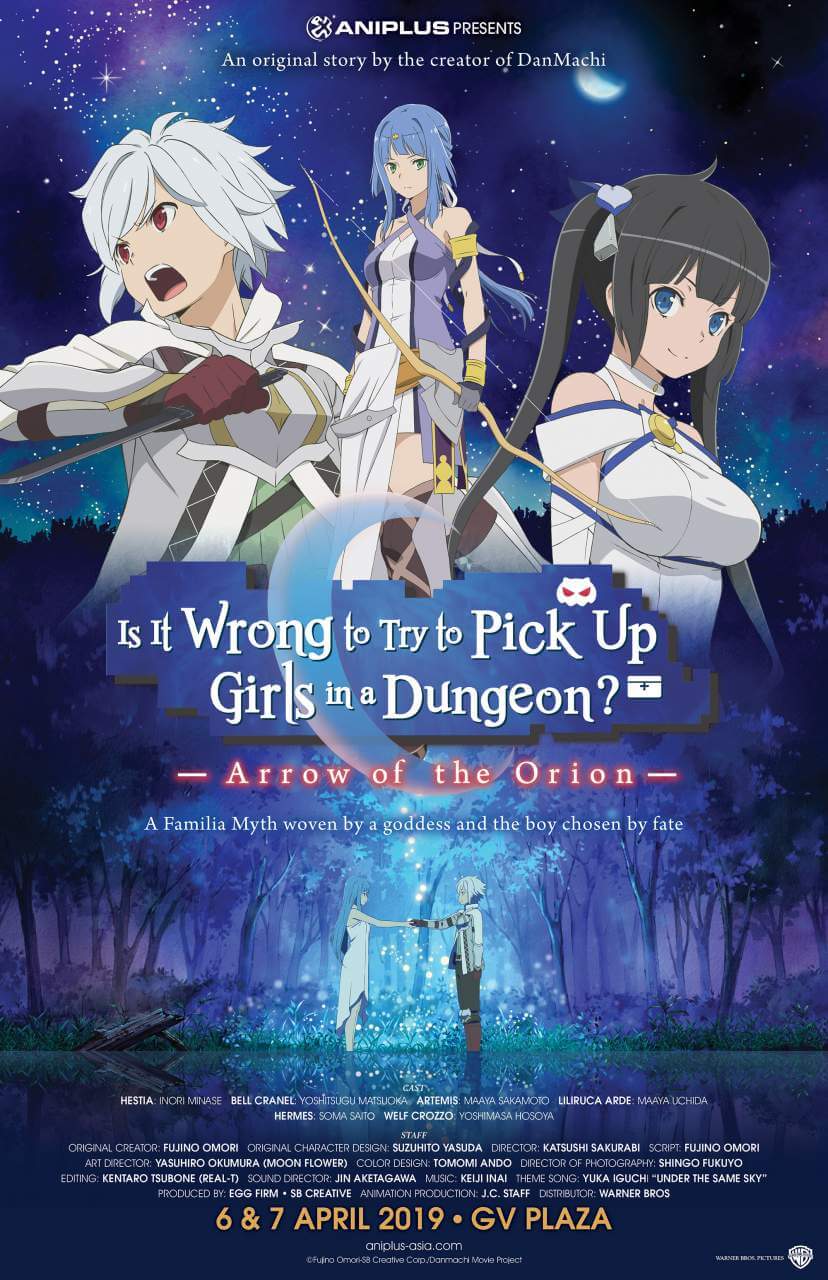 Yuka Iguchi sings the movie's theme song, Onaji Sora no Shita de (Under the Same Sky). Check out the MV below:
The movie's insert song will be performed by sana (sajou no hana).
---
Is It Wrong to Try to Pick Up Girls in a Dungeon? or better known as DanMachi, is a light novel series by Fujino Omori and illustrated by Suzuhito Yasuda. With over 10 million copies sold, the work has since been adapted into two TV anime series: DanMachi (2015) and Sword Oratoria (2017).
ANIPLUS Asia simulcast both series in Southeast Asia: DanMachi (April to June 2015) and Sword Oratoria (April to June 2017) and a DanMachi OVA (February 2017).
---
Tags :