Original anime film Child of Kamiari Month ("Kamiarizuki no Kodomo") has been announced for 2021.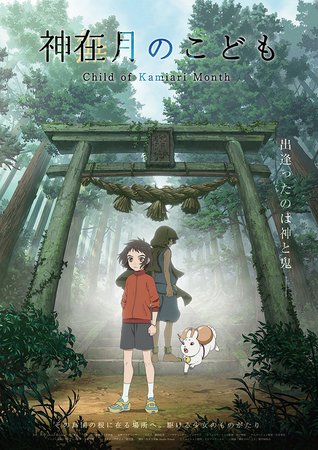 Child of Kamiari Month is an original anime film project slated for 2021 which tells the story of a girl's journey towards Izumo of Shimane Prefecture—the home of gods and the roots of the island country, Japan's story. A teaser visual was also released with the announcement.
Across Japan, Kannazuki (神無月, translates to "the month when there are no gods") is a traditional name for the tenth month in the traditional Japanese calendar, whereas the month is called Kamiarizuki (神在月, translates to "the month when there are gods") in Izumo. It is said that gods from all over Japan leave their territories to gather at Izumi Taisha during the 10th month of the ancient lunar calendar to have a meeting called Kamihakari (神議り), where they discuss and decide human matters and bonds in the following year.
The anime film portrays the "bonds", which is the roots of story behind the island country, human and gods, the various lands and Izumo.
Kanna, the film's main protagonist, lost her will to face her beloved "running" upon her mother's passing. One day, Kanna is invited on a journey to Izumo by a messenger of God in the form of a rabbit, Shiro, and a young demon boy, Yasha.
From Left to Right: Aju Makita (Kanna), Maaya Sakamoto (Shiro), Miyu Irino (Yasha)
Aju Makita, who has collaborated with the film's Director Hirokazu Koreeda on various works despite her young age (17), will play Kanna. Shiro will be voiced by Maaya Sakamoto while Yasha will be voiced by Miyu Irino. Original creator Toshinari Shinohe will serve as Director of Communications, Takana Shirai Animation Director and Tetsuro Satomi as the Production Manager.
---
Follow us for more anime-related news: https://www.aniplus-asia.com/news

Source: Web Newtype

(C)2021 映画「神在月のこども」製作御縁会

Tags :