The multimedia new-generation girls' band project, BanG Dream! will be holding their 7th Live, "TOKYO MX presents 「BanG Dream! 7th☆LIVE」", a 3-day concert event which will take place on 21, 22 and 23 February 2019, at the Nippon Budokan.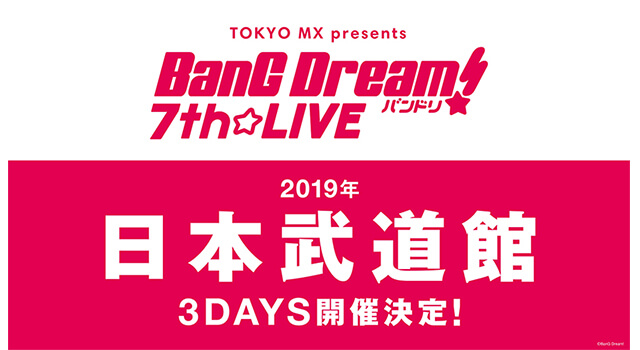 Each day will be headed by the project's three real-life bands—Roselia on the first day, followed by RAISE A SUILEN and Poppin'Party on the last day respectively. The visuals and logo for each day have been released on BanG Dream!'s official site.
DAY1: Roselia "Hitze"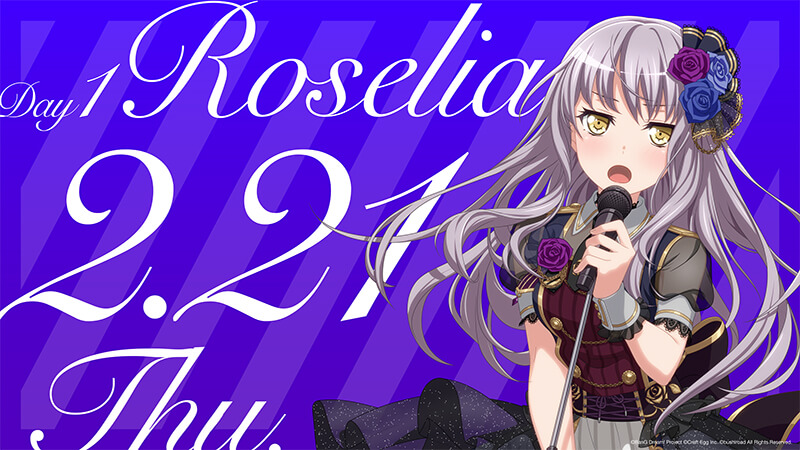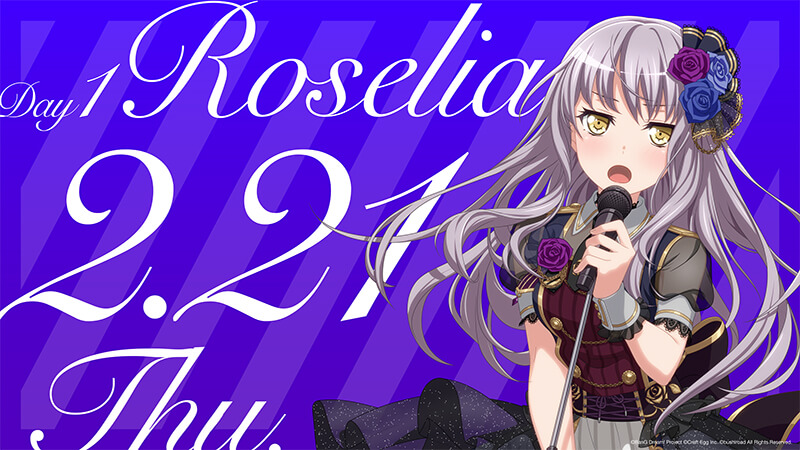 It will be Roselia's first full-scale concert with Kanon Shizaki, successor as the voice of Rinko Shirokane and keyboardist of the band, since her first appearance at "Vier", which was held November last year.
DAY2: RAISE A SUILEN "Genesis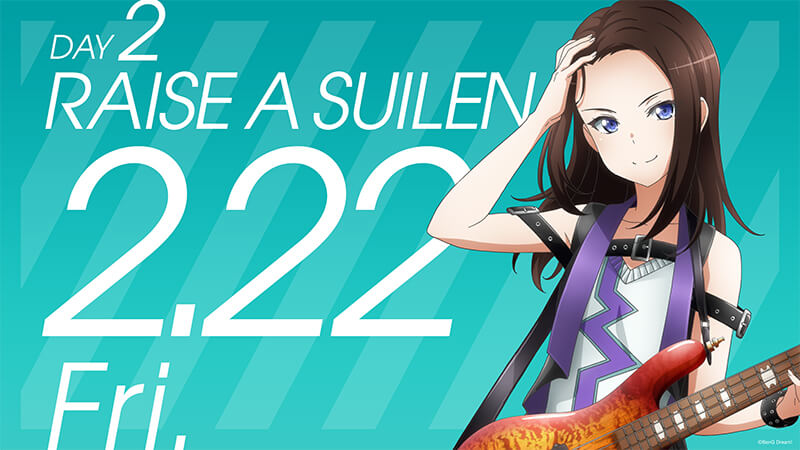 It will be RAISE A SUILEN's first concert after the revelation of their characters which will appear in the anime series.
RAISE A SUILEN's live concert will be accompanied with a guest lineup:
Sachika Misawa, voice of Moca Aoba from Afterglow
Ami Maeshima, voice of Aya Maruyama from Pastel*Palattes
Miku Ito, voice of Kokoro Tsurumaki from Hello, Happy World!
Suzuko Mimori, voice of Yuri Ushigome from Glitter*Green
DAY3: Poppin'Party "Jumpin' Music♪"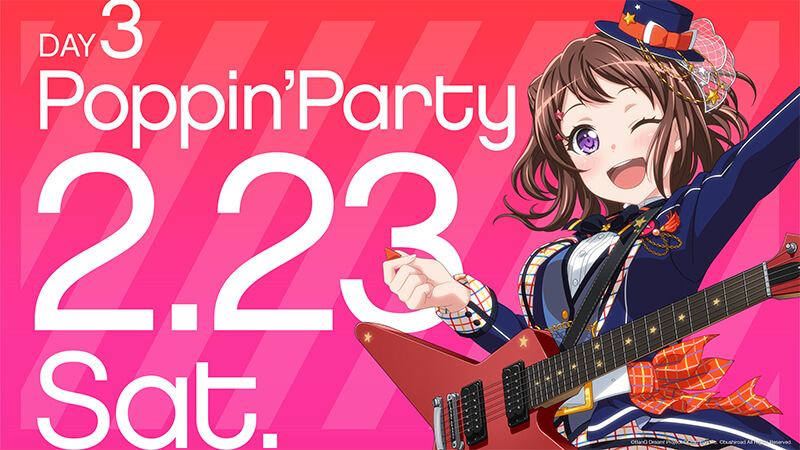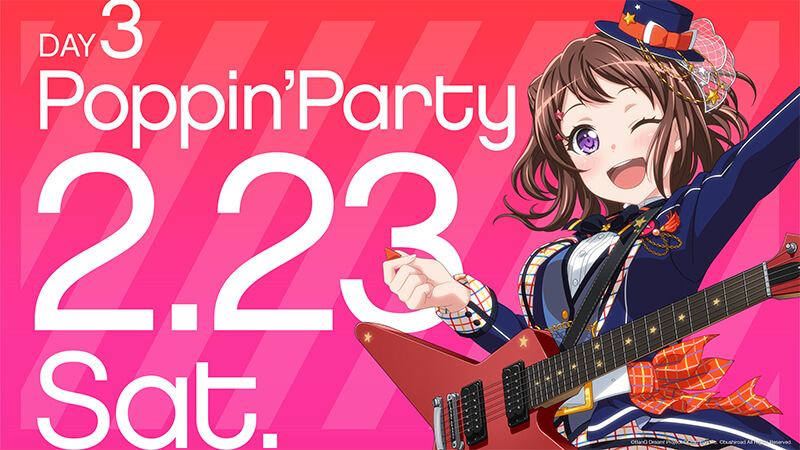 This will be Poppin'Party's second time to perform at the Nippon Budokan, since their last time at BanG Dream! 4th☆LIVE Miracle PARTY 2017!.
Live viewings have also been announced across cinemas in Japan, Hong Kong, Taiwan and Korea.
Event Title: TOKYO MX presents「BanG Dream! 7th☆LIVE」
Day 1 – Hitze
Date and time: 21st February 2019
Performers: Roselia– Aina Aiba (Vo, voice of Yukina Minato), Yuki Nakashima (Ba, voice of Lisa Imai), Haruka Kudo (Gt, voice of Sayo Hikawa), Megu Sakuragawa (Dr, voice of Ako Udagawa), Kanon Shizaki (Key, voice of Rinko Shirokane)
Day 2 – Genesis
Date and time: 22nd February, 2019
Performers: RAISE A SUILEN – Raychell (Ba + Vo, voice of LAYER), Riko Kohara (Gt, voice of LOCK/Rokka Asahi), Natsume (Dr, voice of MASKING), Reo Kurachi (Key, voice of PAREO), Risa Tsumugi (DJ, voice of CHU2)
Guest performers: Sachika Misawa (voice of Moca Aoba from Afterglow), Ami Maeshima (voice of Aya Maruyama from Pastel*Palattes), Miku Ito (voice of Kokoro Tsurumaki from Hello, Happy World!), Suzuko Mimori (voice of Yuri Ushigome from Glitter*Green)
Day 3 – Jumpin' Music♪
Date and time: 23rd February, 2019
Performers: Poppin'Party – Aimi (Gt + Vo, voice of Kasumi Toyama), Sae Otsuka (Gt, voice of Tae Hanazono), Rimi Nishimoto (Ba, voice of Rimi Ushigome), Ayaka Ohashi (Dr, voice of Saya Yamabuki), Ayasa Ito (Key, voice of Arisa Ichigaya)
---
Follow us for anime-related news: www.aniplus-asia.com/news

Source: BanG Dream Official website, BanG Dream Offical Twitter

©BanG Dream! Project ©Craft Egg Inc. ©bushiroad All Rights Reserved.

Tags :