Poppin'Party and RAISE A SUILEN of next-generation girls' band project BanG Dream! will perform at BanG Dream! 6th☆LIVE, which will be held on 7 & 8 December 2018. Live viewing sessions have been announced for Japan, Hong Kong, Taiwan and Korea.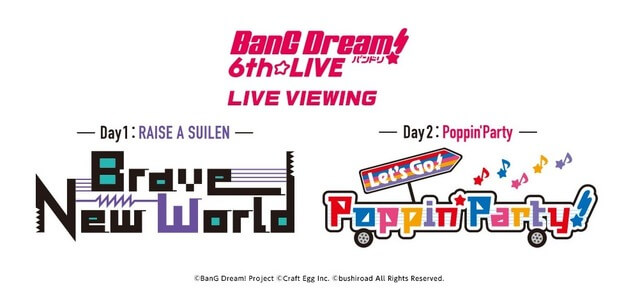 As a part of the girls' band project, both Poppin'Party and RAISE A SUILEN are active as girl bands in real-life. Each band will head the live event on each day respectively.
The first day, which will take place on 7 December, will be the largest scale solo live concert for RAISE A SUILEN so far. Expectations are raised for the first full-scale performance to be held under the new combination.
It will be the first live concert in seven months for Poppin'Party, who will perform on the second day (8 December). As the centerpiece of the project, their progress which will show on stage, is to be anticipated.
Event Title: BanG Dream! 6th☆LIVE
Day 1
Date and time: 7th December 2018, 19:00
Performers: RAISE A SUILEN – Raychell (Ba + Vo), Riko Kohara (Gt), Natsume (Dr), Reo Kurachi (Key), Risa Tsumugi (DJ)
Guest performer: Miku Ito (voice of Kokoro Tsurumaki from Hello, Happy World!)
Day 2
Date and time: 8th December 2018, 16:00
Performers: Poppin'Party – Aimi (voice of Kasumi Toyama), Sae Otsuka (voice of Tae Hanazono), Rimi Nishimoto (voice of Rimi Ushigome), Ayaka Ohashi (voice of Saya Yamabuki), Ayasa Ito (voice of Arisa Ichigaya)
---
Follow us for anime-related news: www.aniplus-asia.com/news

Source: AnimeAnime

(C)BanG Dream! Project (C)Craft Egg Inc. (C)bushiroad All Rights Reserved.

Tags :