Voice actors Mamoru Miyano, Kensho Ono and Aoi Yuki will be starring in the Japanese dubbed version of the upcoming animated Spider-man movie "Spider-Man: Into the Spider-Verse".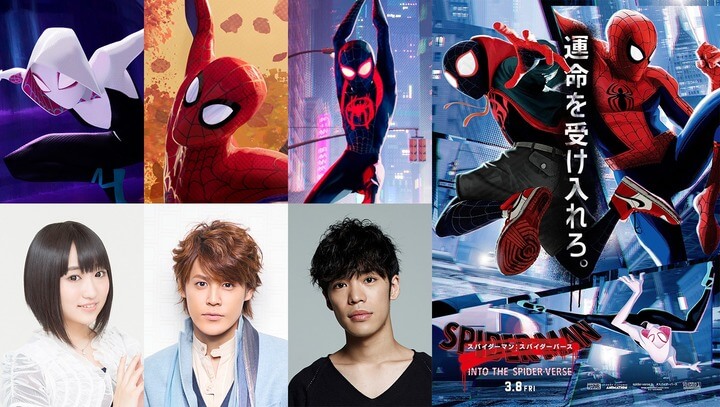 The new Spider-man movie is set in a parallel universe where Spider-Man of multiple dimensions are assembled to stop a threat to all reality. New Spider-man Miles Morales, Miles' mentor Peter Parker and Spider-Woman (Gwen Stacey) will appear in the movie. For the Japanese dubbed version of the movie, Ono is providing the voice for Miles Morales, Miyano for Peter Parker and Yuki for Gwen Stacey.
The cast shares their thoughts for the project.
Kensho Ono's comment
I am really happy about it. As a voice actor, it is a dream to be able to dub for a Marvel superhero, and that dream came true for me. I like Spider-man, and I believe there are a lot of fans in Japan as well. Come to think of it, after the initial euphoria of getting the role, now I am feeling the pressure resting on my shoulders (laughs).
Mr. Miyano, whom I regard as an older brother, is such a funny and cool person. I am very much looking forward to his portrayal of Parker. Unfortunately, we were unable to record together, but I could imagine the way he played the role and enjoyed my part of the recording.
The friendly neighbourhood Spider-man… I want to watch and root for the playful hero who constantly fails but ultimately grows from the experiences. The protagonist Miles is really cute!!! Please enjoy the movie on the big screen!! Marvel is the best!!!
Mamoru Miyano's comment
I never expected the day I would get to play Peter Parker. This is indeed a great honour. However this Peter Parker might be slightly different from the one everybody knows. And my role this time is to be the mentor for the protagonist Miles. Finally, I am playing an adult… I'm deeply moved by it (laugh). Everybody, please look forward to the movie!
Aoi Yuki's comment
Even as a new Marvel fan, I have seen Spider-Woman before. I didn't think I could take on the role, but I am really happy I did. I think some day I will tell my child that her mother is actually Spider Gwen. I am a newcomer to the Marvel universe after watching Avengers: Infinity War. During that one month when I was catching up on the past movie, I wondered about how I could be a hero, and how I could work out an itinerary for a pilgrimage to the holy land of America… When I took on the role of Gwen, even though the former didn't happen, I was able to go to America. I love Spider-man. Don't you think it's cool to be in red and blue body tights? I like it, especially the ankle. And I like Gwen's hood a lot.
---
Follow us for more anime-related news: www.aniplus-asia.com/news

Source: Mantan Web

Tags :