Bushiroad x ANIPLUS Asia proudly presents, BanG Dream! 5th☆LIVE Delayed Viewing in Malaysia on 18 – 19 August 2018 at TGV Sunway Pyramid!
Be one of the first outside Japan to watch this delayed viewing!
Attendees will also receive a gold hot-stamped postcard* specially produced for these delayed viewings, featuring the key visual of the concert itself. Postcard will be distributed on screening day.
*While stocks last.
Tickets are available for sales from 15 August 2018 on TGV Cinema's website.
Day 1: Buy your tickets here!
Day 2: Buy your tickets here!
AniManGaki 2018 will also be happening that weekend at Sunway Pyramid Convention Centre.
Drop by the ANIPLUS booth at AniManGaki 2018 and have a fantastic time out with friends!
BanG Dream! 5th☆LIVE Delayed Viewing in Malaysia
Date: 18 – 19 August 2018 (Saturday & Sunday)
Time: 4pm – 7:15pm*
Venue: TGV Cinemas Sunway Pyramid, Hall 4
*Time changed from original 2pm to 4pm
"BanG Dream!" is a next generation girls band project, a mixed media franchise consisting of elements such as animation, comics, original songs and live performances. Furthermore, "BanG Dream! Girls Band Party!", a mega-hit smartphone game that had its English version launched back in April, is centered around the world of "BanG Dream!" characters.
Two of the girl bands that appear in this game, "Poppin'Party" and "Roselia", had their voice actors perform live on the very same instruments as their characters at "BanG Dream! 5th☆LIVE". Taking place on May 12th & 13th at Makuhari Messe, the two bands performed to audiences of over 46,000 both on-site and at live-viewings across Japan and nearby territories.
For the first time ever, we will be bringing a delayed viewing of a BanG Dream! concert overseas to local audiences! Come experience the excitement of these stage performances alongside other fans!
BanG Dream! 5th☆LIVE Day 1
18 August 2018:
Poppin'Party HAPPY PARTY 2018! 
【CAST】
◇Aimi as Kasumi Toyama
◇Sae Otsuka as Tae Hanazono
◇Rimi Nishimoto as Rimi Ushigome
◇Ayaka Ohashi as Saya Yamabuki
◇Ayasa Ito as Arisa Ichigaya
※Opening Act: THE THIRD(TBD)
BanG Dream! 5th☆LIVE Day 2
19 August 2018:
Roselia -Ewigkeit-
【CAST】
◇Aina Aiba as Yukina Minato
◇Haruka Kudo as Sayo Hikawa
◇Yurika Endo as Lisa Imai
◇Megu Sakuragawa as Ako Udagawa
◇Akesaka Satomi as Rinko Shirokane
※Opening Act: THE THIRD(TBD)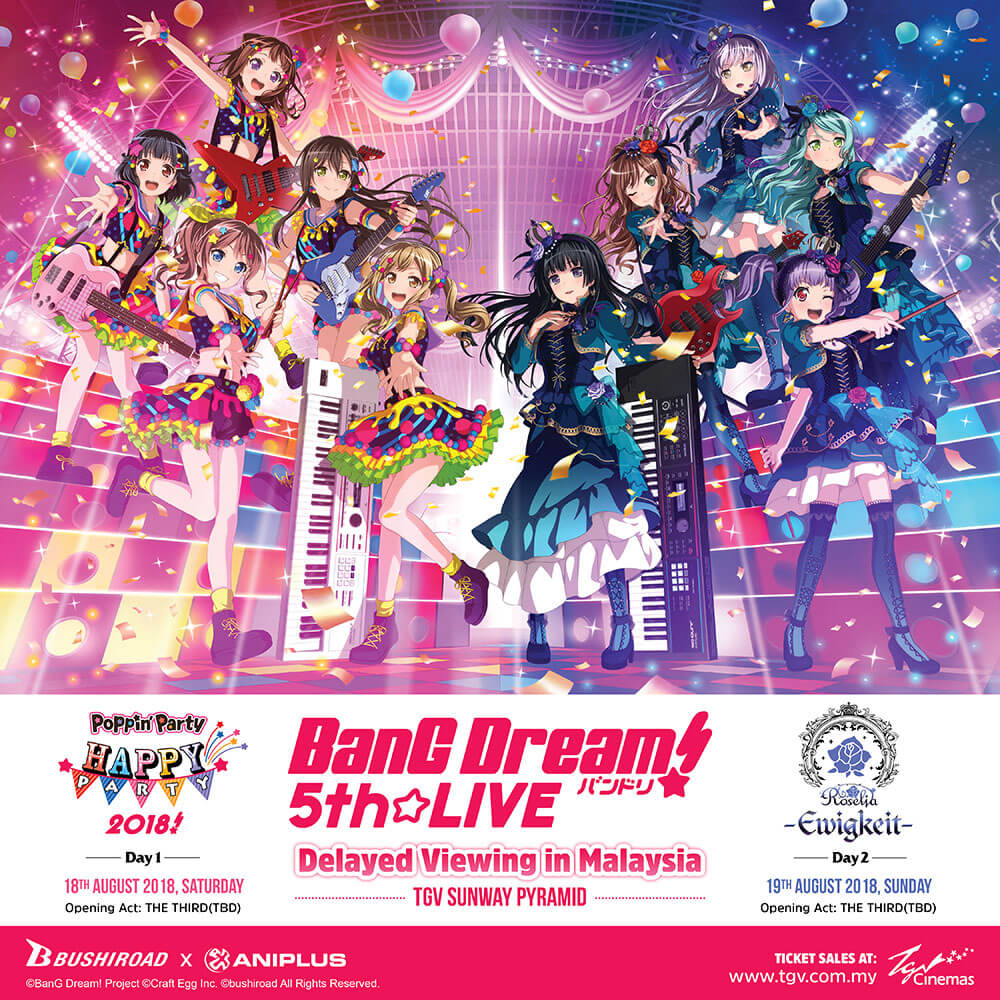 Tags :