The biggest J-pop culture event in the region, Anime Festival Asia (AFA), is back and ANIPLUS Asia will be joining the festivities! A huge variety of activities and merchandise will be lined up for you at the ANIPLUS booth, so be sure to drop by!
1. Jujutsu Kaisen X ANIPLUS Collaboration café

Café website: anipluscafe.com
If you have not already heard the news, ANIPLUS is collaborating with popular anime series Jujutsu Kaisen to bring you the first ever official Jujutsu Kaisen Collaboration Café in Singapore!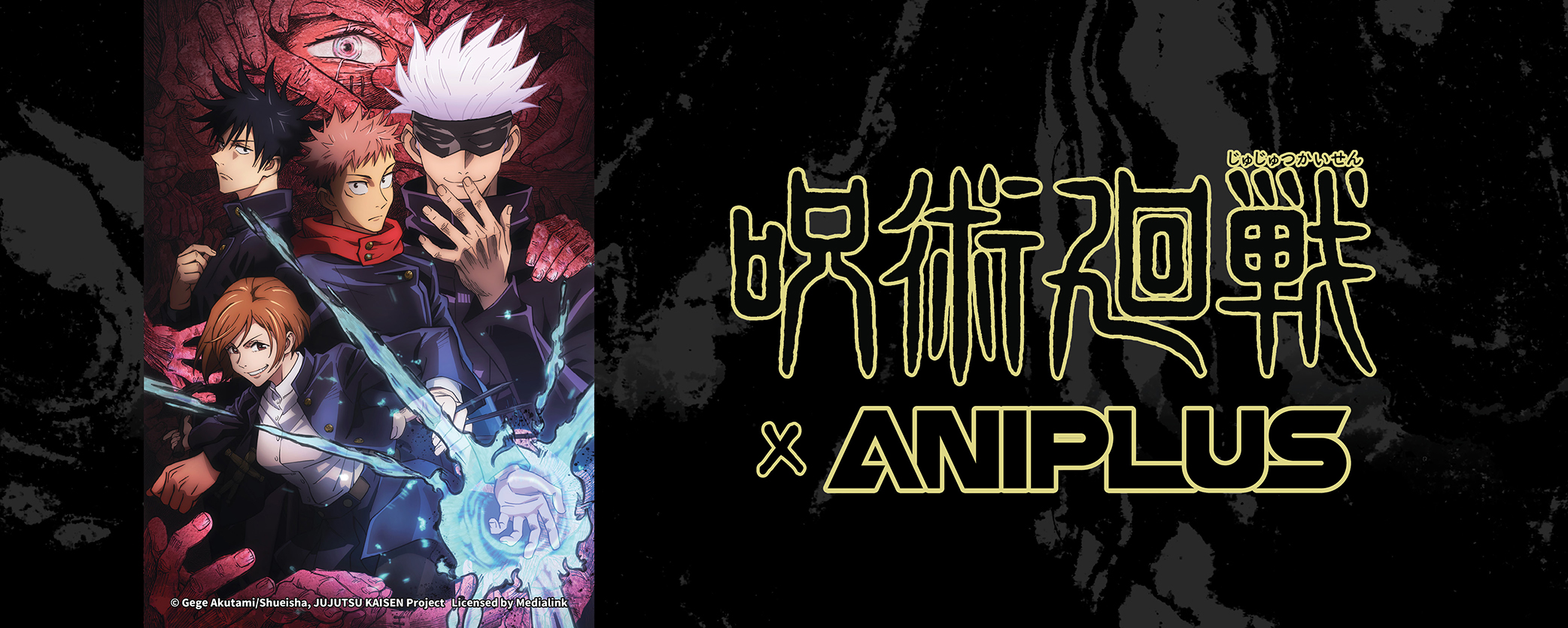 We will be bringing a slice of the collaboration to AFA – get ready to be awed by the larger than life-sized Jujutsu Kaisen photowall and snap memorable shots with the character standees!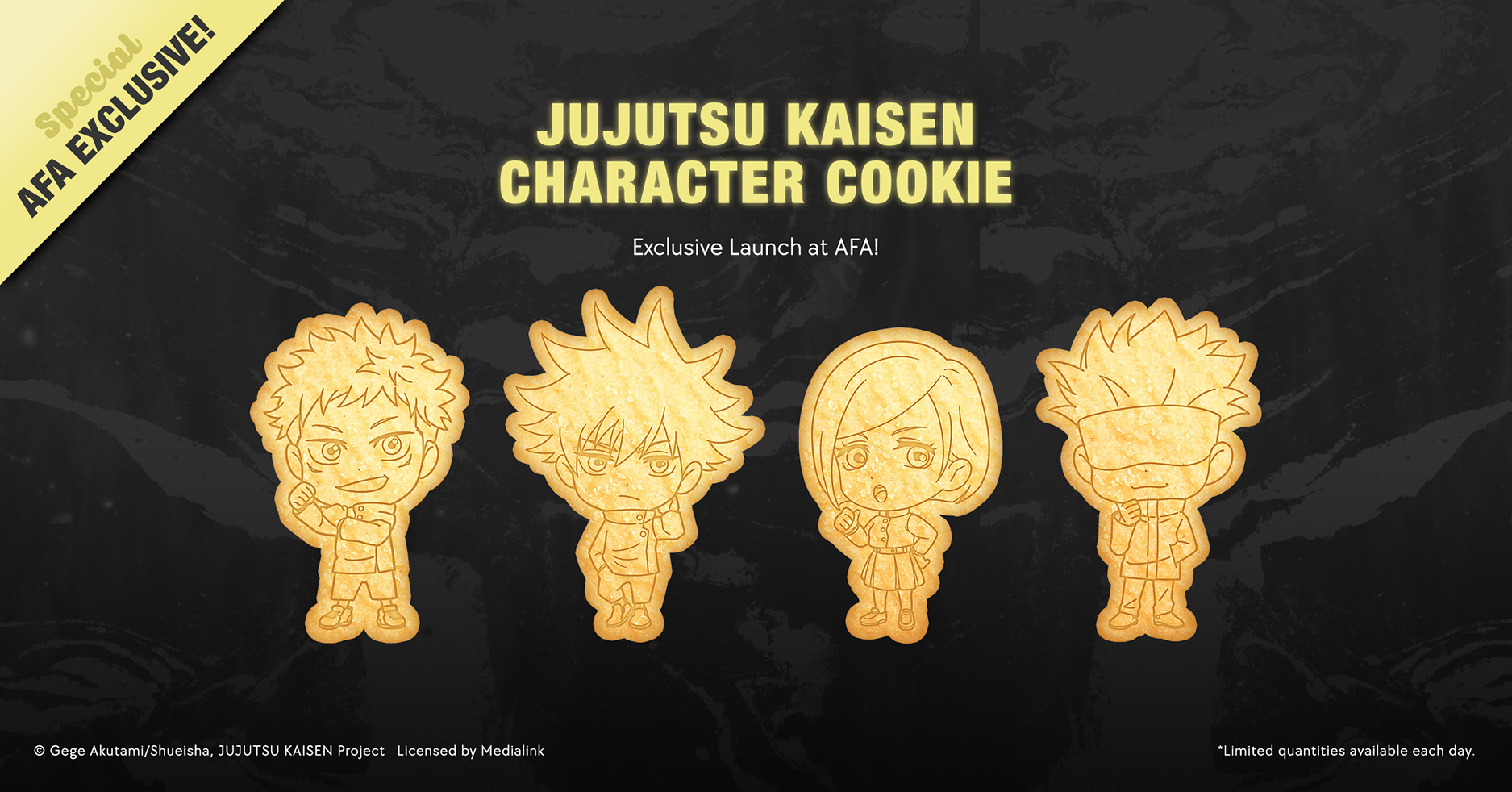 Don't miss the exclusive launch of Jujutsu Kaisen Character Cookies, first available at the ANIPLUS booth!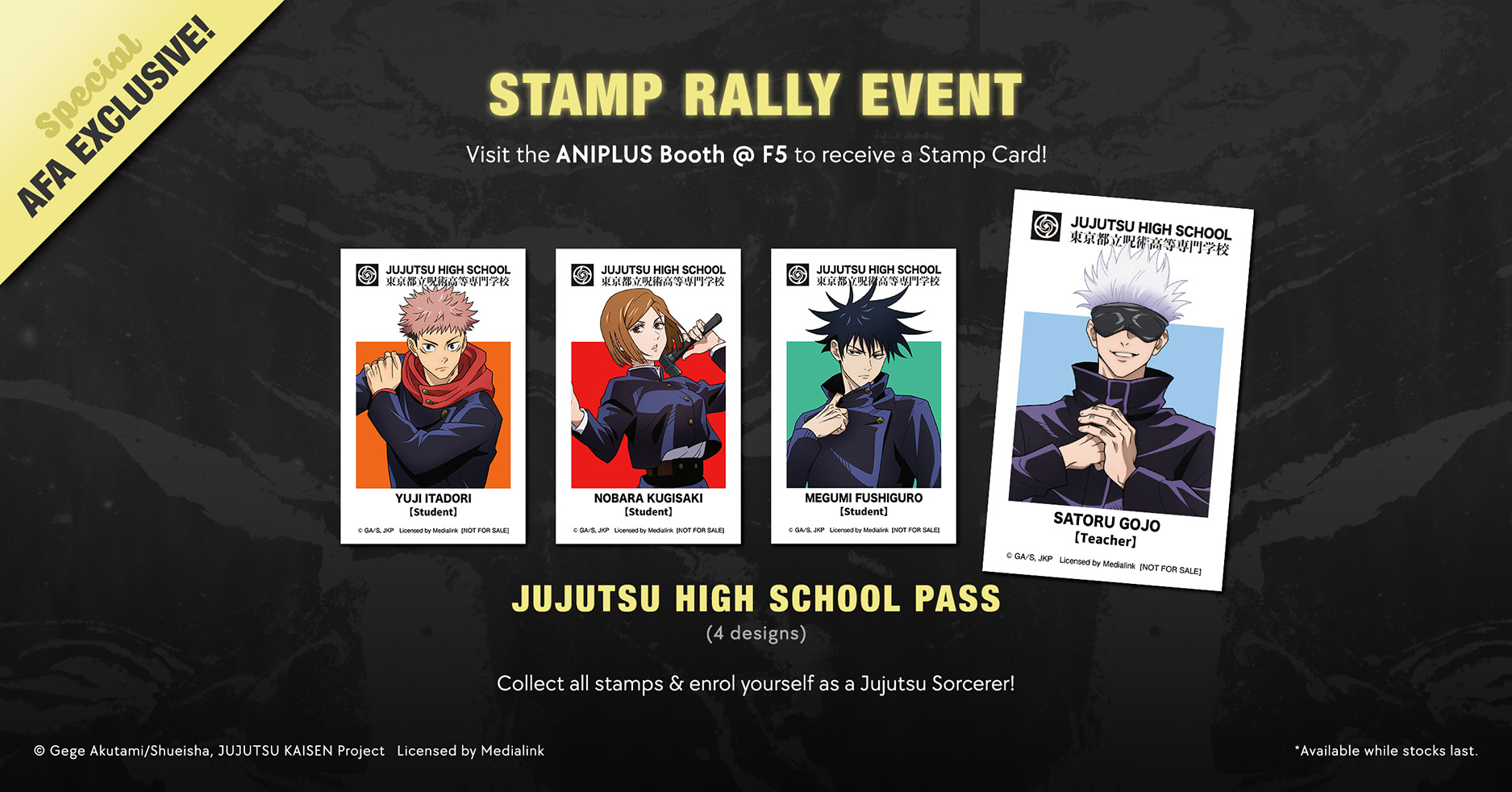 Collect a stamp rally card from our booth – visit both our AFA booth and ANIPLUS café (at Esplanade) to get an exclusive Jujutsu High School Pass!
2. Meet & Greet with Paradox Live Cast
Calling fans of Paradox Live, we hope you enjoyed the pop-up event at ANIPLUS café and we have prepared more surprises for you! The CVs of The Cat's Whiskers, Ryota Takeuchi & Junta Terashima, will be having a meet-and-greet session at the ANIPLUS booth.
Simply purchase a Paradox Live lucky bag to participate!
Lucky bag sale begins: 25 Nov (Fri), when doors open
Meet & Greet: 26 Nov (Sat), 4.15pm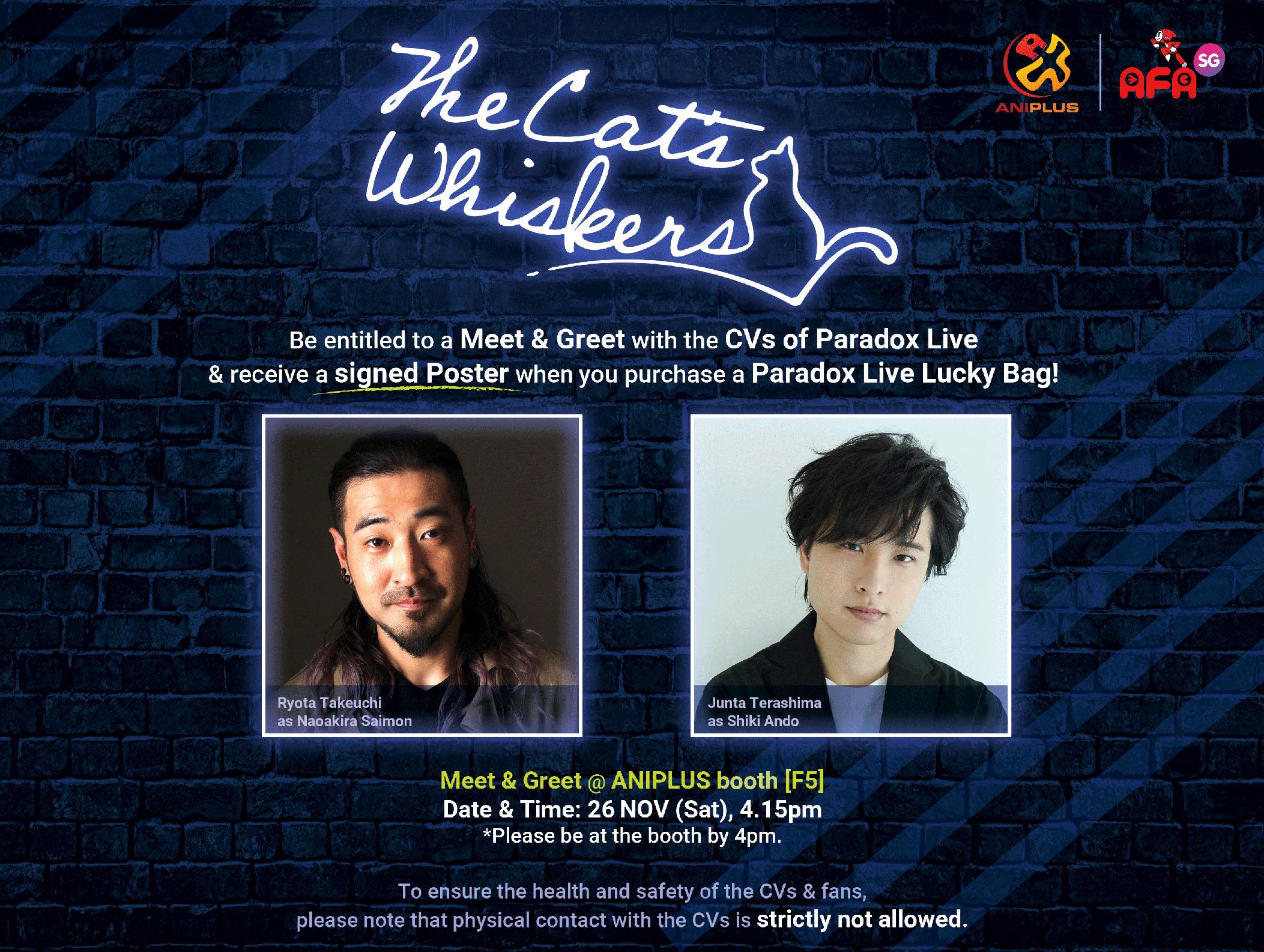 3. Lycoris Recoil X ANIPLUS Original Merchandise
WOOOAAAH! IT'S A SUPERCAAAR!! CHECK IT OUT!! AMAZING!
Lycoris Recoil x ANIPLUS merchandise will be launching exclusively at our AFA booth and you can get a character bookmark with every purchase!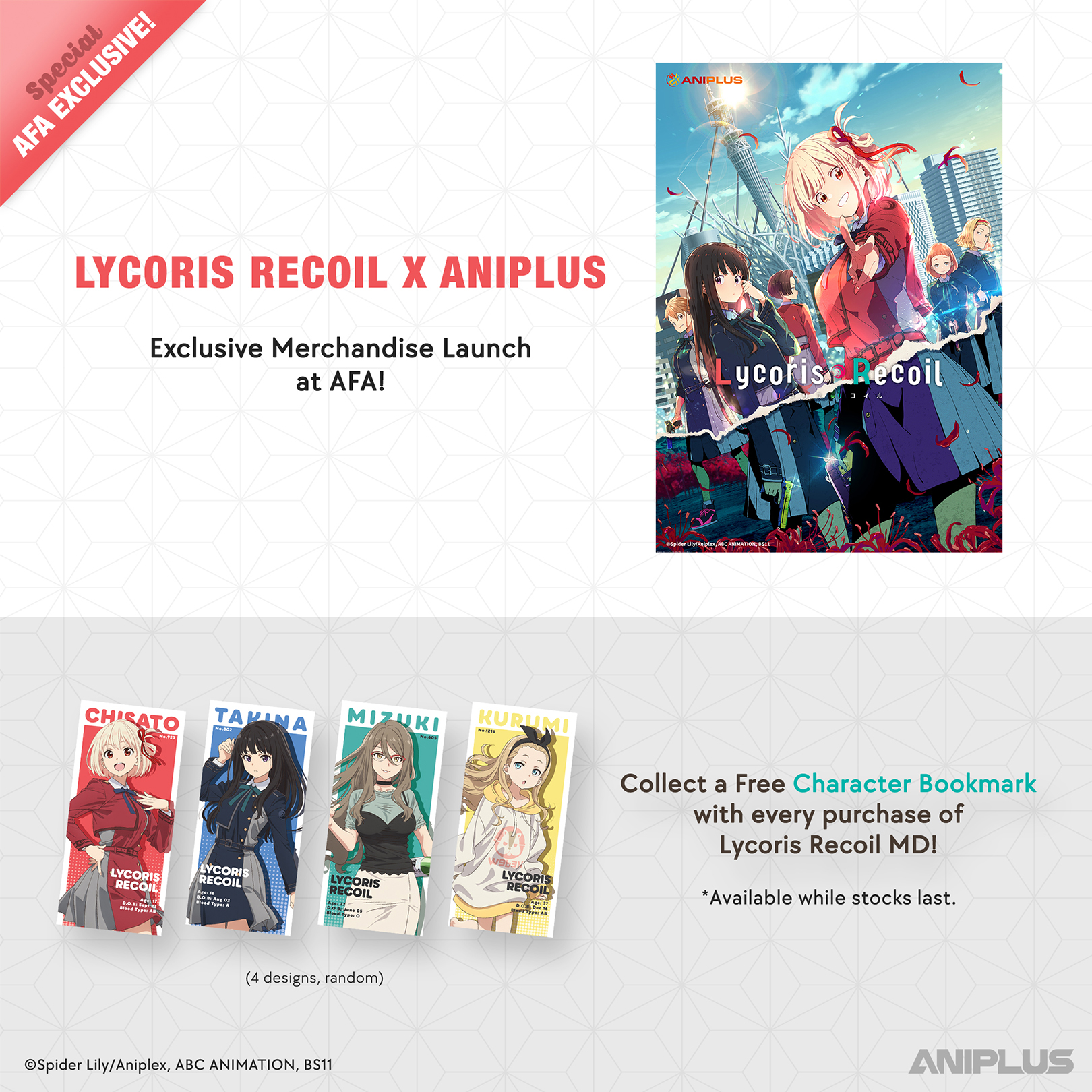 Lycoris Recoil X ANIPLUS Guerrilla Event
We can't make you do the chores, but we sure can challenge you to a game of rock-paper-scissors!
Spot any of the ANIPLUS staff wearing the Lycoris symbol in the convention hall, and play a game of sure-win rock-paper-scissors. Nab some Lycoris Recoil photocards – designs depending on whether you win or lose.
Do you have what it takes??
4. bushiroad X ANIPLUS Giveaways (BanG Dream! & D4DJ)
ANIPLUS has partnered up with our friends at Bushiroad to bring you this special giveaway, featuring our best girls from BanG Dream! and D4DJ! Simply follow the respective EN social media accounts of the two games & ANIPLUS on Twitter, to receive a Free Chibi Sticker!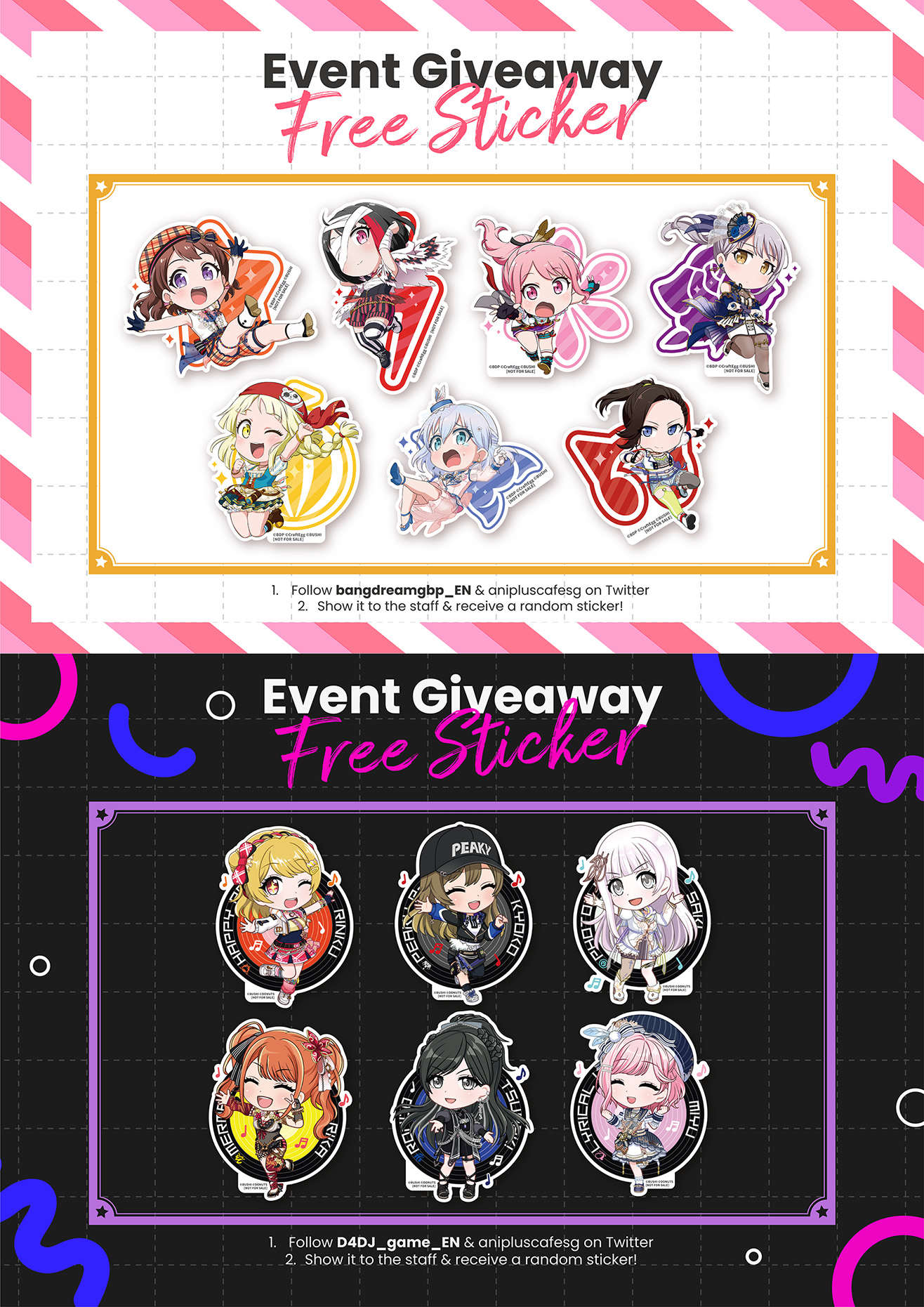 5. Ensemble Stars!! Giveaway
Collect exclusive Ensemble Stars!! souvenirs, only at the ANIPLUS booth!
*Stay tuned for more updates.
6. A wide range of merchandise for you to discover
New Arrivals & Lucky Bag Sale (up to more than 50% off!)
'Tis the best time of the year for you to do gift shopping! We've prepared a wide range of merchandise, including new arrivals and discounted items!!
Widen your collection at affordable prices with our Lucky Bag Sale, featuring My Hero Academia, The Quintessential Quintuplets, Love Live! Series, BanG Dream! and Vocaloid. Limited bags are available while stocks last.
Check out a corner dedicated to New Arrivals from Heaven Official's Blessing, Grandmaster of Demonic Cultivation, Link Click & more Danmei original titles!
Look forward to more merchandise from Ensemble Stars!!, hololive, exclusive Kuji & ANIPLUS collaboration goods!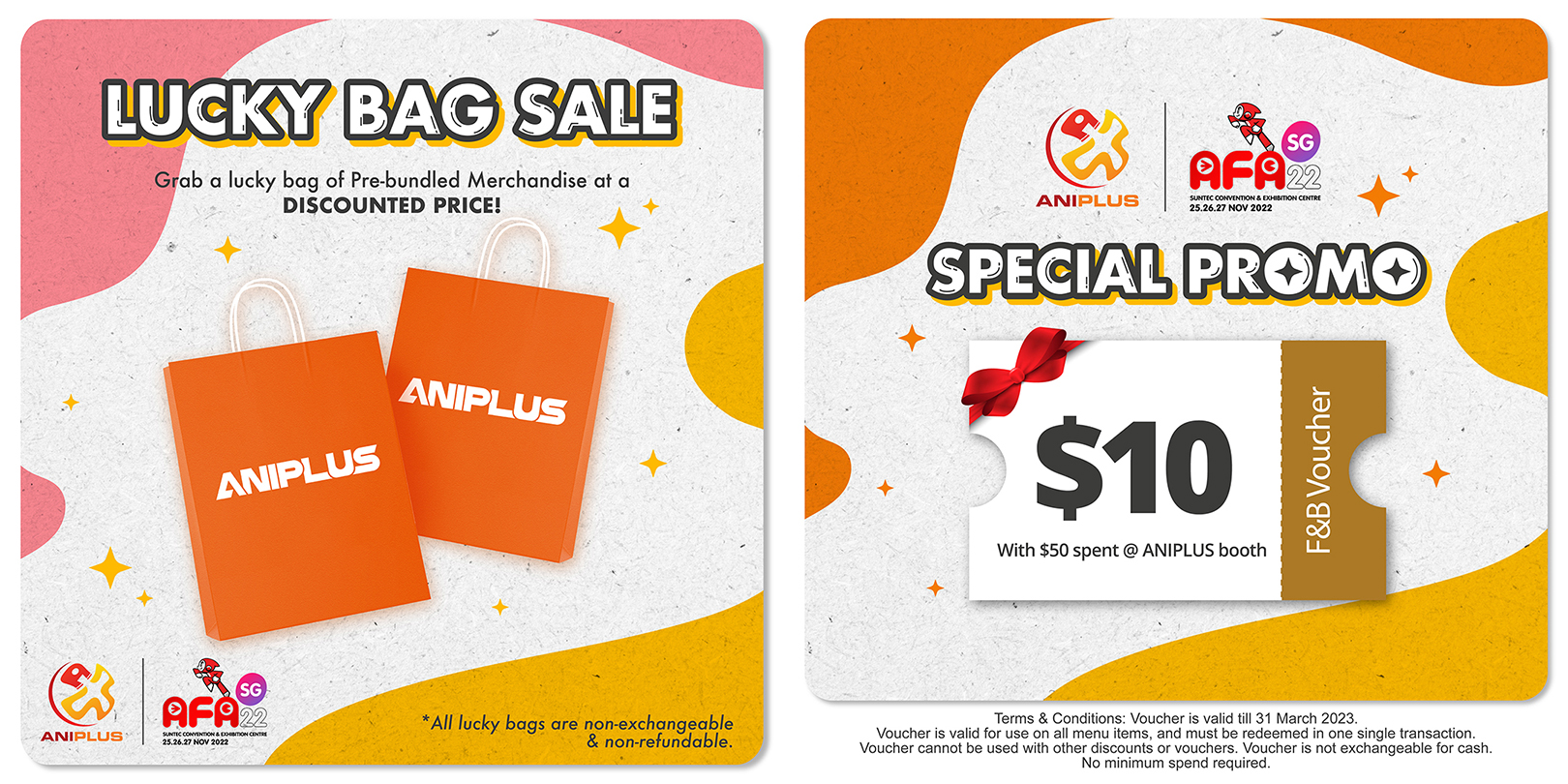 What's more – Spend $50 at the ANIPLUS booth & receive a $10 F&B voucher for your next visit to ANIPLUS café.
Making good on our promise to bring you Anime Anytime, Anywhere – and so much more!
See you at AFASG 2022!
---
【ANIPLUS Café】Jujutsu Kaisen X ANIPLUS site: anipluscafe.com

【AFASG 2022】Official website: https://2022.animefestival.asia/

Tags :