Love Live! Super Star!! "Hajimari wa Kimi no Sora" / Liella! Type A "Minna de Kanaeru Monogatari" ver. [CD + DVD]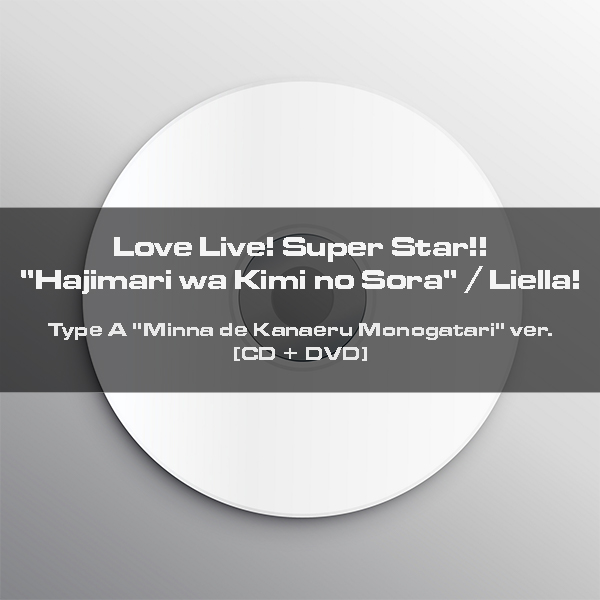 Hover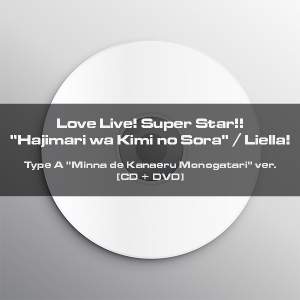 Love Live! Super Star!! "Hajimari wa Kimi no Sora" / Liella! Type A "Minna de Kanaeru Monogatari" ver. [CD + DVD]
---
The new series "Love Live! Super Star!!" is finally coming and the first single is here! The project will start in January 2020, and a TV anime already in the works.
The long-awaited debut single of the school idol group Liella! from this series will finally be released, with two different concept versions, A version and B version, for a total of four editions. Each will have different cover artworks, different tracks for second coupling track, and drama part.
Type A comes with leading track, coupling tracks 1 and 2, instrumental tracks of each, and drama part A. The DVD comes with a anime music video of "Hajimari wa Kimi no Sora".
*Comes with the following first-press bonuses:
Release event ballot ticket (only valid in Japan)
Release event streaming serial code (requirements unknown)
1 x Member card (randomly selected from five designs)
Smartphone wallpaper download serial code
---
Product Specifications
【CD】
1.始まりは君の空
作詞:畑亜貴
作曲・編曲:兼松衆
2.Dancing Heart La-Pa-Pa-Pa!
作詞:畑亜貴
作曲・編曲:高木龍一
弦編曲:椿山日南子
3.Dreaming Energy
作詞:畑亜貴
作曲:廣中トキワ
編曲:Peach
4.始まりは君の空(Off Vocal)
5.Dancing Heart La-Pa-Pa-Pa!(Off Vocal)
6.Dreaming Energy(Off Vocal)
7.みんなでお出かけ! ~計画編~
8.みんなでお出かけ! ~集合編~
【DVD】
「始まりは君の空」アニメーションMV収録
≪アーティスト≫
[Liella!(リエラ)]
澁谷かのん:伊達さゆり
唐可可:Liyuu
嵐千砂都:岬なこ
平安名すみれ:ペイトン尚未
葉月恋:青山なぎさ
※Please check for the other editions here.
---
Pre-Order Deadline : 17 February 2021
Release Date in Japan : 7 April 2021
Estimated to reach SG : Late April – May 2021
(*Please note that delivery to SG may be delayed as pre-orders are shipped from Japan in bulk along with other pre-order merchandises released in the same period.)
---
Payment is non-refundable/non-transferable.
You will be informed once the stock arrives and is ready for pick up at ANIPLUS café.
Item Status : In Stock
---
Cost : $46.00
---
Pre-orders have closed / Product is not available for online purchase.