The stage greeting and special screening event for TV anime Tsurune -Kazemai High School Japanese Archery Club- ,"Yawatashi no Gi", took place on 6 October, at Marunouchi Piccadilly. The main cast – Yuto Uemura (voice of Minato Narumiya), Aoi Ichikawa (voice of Seiya Takehaya), Ryota Suzuki (voice of Ryohei Yamanouchi) and Shogo Yano (voice of Nanao Kisaragi) made an appearance at the event.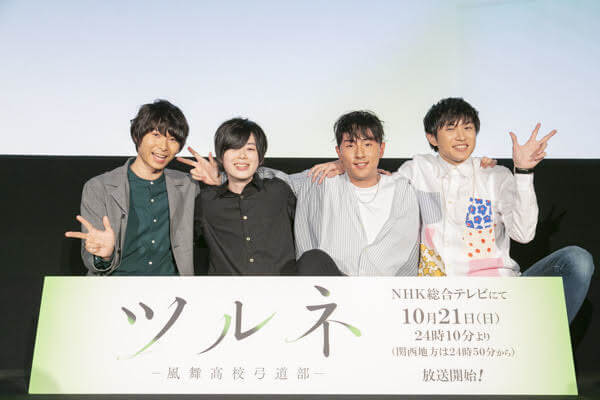 The cast greeted the audience after the screening of a special edition of episodes 1 and 2. Kicking off the talk session, Yano, the voice of Nanao Kisaragi, did his character's signature "Mehha!" greeting and pose as the cast and audience returned his greeting. The cast first talked about how excited they were over the special edition which was showed on screen.
At the characters introduction segment, Uemura called his character Minato as "someone with a charming forehead". Ichikawa described Seiya as "someone who seems gentle and soft at first sight but gets very fixated about Minato". Suzuki defined Ryohei as "someone who's as bright as the sun and extremely affectionate, like a puppy". Yano detailed Nanase as "someone who seems shallow, but one who can access situations with a calm mind".
A surprise greeting video of Kaito Ishikawa, the voice of Kaito Onogi, was then shown at the event. The cast described Ishikawa as a leader who constantly motivates them during recording sessions. The cast also read a surprise letter from the Director, Takuya Yamamura.
After a photo taking session, Uemura left the audience with a final message:
"I really enjoy my time with Tsurune. In this youthful story, you will realize that each character has their unique temperature, atmosphere, and we treasure them a lot. The TV anime will start soon, and we will work our hardest to thank you all for the support we have received."
Tsurune will begin simulcast on ANIPLUS Asia from 22 October, MONs at 02:00 [01:00 id/th] in Southeast Asia.
Encore broadcasts include MONs 23:00 [22:00], THUs 18:00 [17:00] and FRIs 22:30 [21:30].
---
Follow us for anime-related news: www.aniplus-asia.com/news

Source: Pony Canyon News

(C)Kotoko Ayano. Kyoto Animation / Tsurune Committee

Tags :