The voice-actor-centric Seiyu Kohaku Uta Gassen has announced their very first voice actor line-up at a conference held on 22 January, at Akihabara UDX.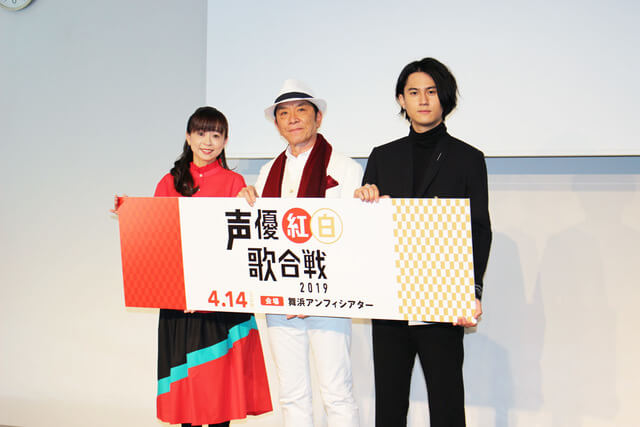 Seiyu Kohaku Uta Gassen is founded by veteran voice actor Joji Nakata, a music festival event where only voice actors are invited as performers. The project came into life after Nakata's tweet in end 2017, saying that "it's a generation where voice actors no longer just do voice acting, but branch out to all sorts of activities. Why don't we start a 'Seiyu Kohaku Uta Gassen'?". The project was finally realized at the end of 2018, surprising a huge wave of fans and fellow voice actors.
Prior to the conference, the main hosts for the event were already announced—Junichi Suwabe, well known as the voice of Archer from Fate/stay night and Victor Nikiforov from Yuri!!! On ICE and Kana Ueda, well known as the voice of Rin Tosaka from Fate/stay night and Saki Miyanaga from Saki.
At the conference, Nakata revealed the first line-up:
Red Team
Kikuko Inoue (Belldandy in Aa! Megami-sama! Series, Kasumi Tendo in Ranma ½)
Honoka Inoue (Ruby Azumi in Sora to Umi no Aida)
Junko Iwao (Tomoyo Daidoji in Cardcaptor Sakura Series)
Hiroko Kasahara (Fu Hououji in Magic Knight Rayearth)
Mikako Komatsu (Neko in K, Saika Totsuka in Oregairu)
Shoko Nakagawa (Singer for Gurenn Lagann, Fullmetal Alchemist: Brotherhood)
Chisa Yokoyama (Sakura Shinguji in Sakura Taisen Series, Sasami Jurai Masaki in Tenchi Muyo! Series)
White Team
Naoya Uchida (Nobunaga Oda in Drifters, Cobroa in Cobra The Animation)
Akio Otsuka (The Skull Knight in Berserk Series, Kuro Hazama in Black Jack Series)
Tomokazu Seki (Shinya Kogami in Psycho Pass Series, Gilgamesh in Fate series)
Shunsuke Takeuchi (Producer in Idolm@ster Cinderella Girls, Shu Izumi in Tsukipro)
Toshiyuki Toyonaga (Mikado Ryugamine in Durarara!! Series, Goshi Kaneshiro in B-PROJECT)
Kenyu Horiuchi (Douko Libra in Saint Seiya Series, Pain and Tobirama Senju in Naruto Series)
This is only the first wave; further line-ups are to be announced soon. The Seiyuu Kohaku Uta Gassen will take place on 14 April 2019, at Japan's Maihama Ampitheatre.
---
Follow us for anime-related news: www.aniplus-asia.com/news

Tags :