A new promotional video featuring supernova and KONOHANA WA OTOME, two idol units from the upcoming TV anime (4 July release) Lapis Re:LiGHTs has been released.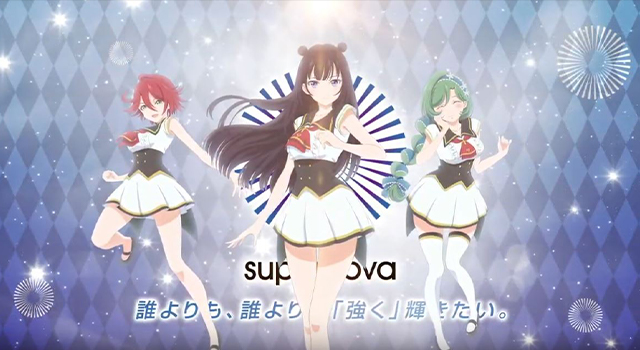 Lapis Re:LiGHTs is the TV anime adaptation of a multimedia project based on the concept of "Magic X Idols", titled Lapis Re:LiGHTs ~Kono Sekai no Idol wa Mahou ga Tsukaeru~. The project follows the story of a group of girls aiming to become the best "witches" at Flora Girls' Academy, where witches are nurtured. In this world, the girls can cast magic using spells and melodies while they grow as idols and fight against magical beasts.
The newly-released PV introduces the members of KONOHANA WA OTOME: three sisters from the nation of Yamato (ヤマトの国)—eldest sister Tsubaki, rock-lover Nadeshiko and fortune-telling maniac Kaede. The idol unit performs a "traditional Japanese-style rock" music.
supernova is a top idol group led by Yue, an international student from Lute (リュウト) who is also known as the "Successor of the Diva", with the two other members Fiona and Millefeuile.
Two PVs were released previously:
TV Anime Lapis Re:LiGHTs
Slated for release in 4 July 2020

STAFF
Director: Hiroyuki Hata
Series Composition: Hajime Asano, Kasumi Tsuchida
Anime Character Design / Chief Animation Director: Tarou Ikegami
Prop Design: Yoshinori Iwanaga
Art Setting: Takashi Miyano
Art Director: Yoichiro Yamamoto
Color Design: Yuichi Furuichi
CG Director: Takuji Goto (Tri-Slash)
Director of Photography: Kazuya Iwai (Studio Shamrock)
Editor: Kentaro Tsubone (REAL-T)
Music: Satoshi Hono
Sound Director: Ryosuke Naya
Sound Production: Studio Mausu
Production Studio: Yokohama Animation Lab
CAST
LiGHTs
Yukari Anzai as Tiara
Risa Kubota as Rosetta
Live Mukai as Lavie
Iori Saeki as Ashley
Mizuki Yamamoto as Lynette
IV KLORE
Hazuki Hoshino as Emilia
Tomomi Mineuchi as Alpha
Yu Sasahara as Salsa
Yoko Nakayama as Garnet
KONOHANA WA OTOME
Rina Honnizumi as Nadeshiko
Arisa Suzuki as Tsubaki
Yuko Ono as Kaede
Sugar Pockets
Yukimi Hayase as Ratura
Seika Hirose as Champe
Hikaru Akao as Maryberry
Sadistic★Candy
Yuka Amemiya as Angelica
Risae Matsuda as Lucifer
supernova
Yu Sakuragi as Yue
Saeko Oku as Millefeuile
Haruka Ito as Fiona
Ray
Kana Hanazawa as Eliza
Yoshino Nanjo as Chloe
Yuka Amemiya as Angers
Sumire Uesaka as Camilla
Ayane Sakura as Yuzuriha
---
Follow us for more anime-related news: https://www.aniplus-asia.com/news

Source: natalie

(c)KLabGames・KADOKAWA/TEAM Lapis Re:LiGHTs

Tags :